| | | |
| --- | --- | --- |
| Updated 12 Feb 2005 | WIRKSWORTH Parish Records 1600-1900 | |
<!==================================================>
Abraham Bennet recommended
as a Fellow of the Royal Society
by the Lunar Society.

In 1789 Abraham Bennet's was recommended for election as a Fellow of the Royal Society by all members of the Lunar Society. Below is a transcription of the recommendation.
Enquiries to

The Rev. Abraham Bennet of Wirksworth in the County
of Derby, a Gentleman well versed in different branches of Natural
Philosophy, and known to this Society by several papers on electricity
printed in their Transactions, being desirous of the honour of becoming
a member thereof, we the underwritten do from our personal
knowledge recommend him as likely to become an useful and
valuable member.

     Jos(iah) Wedgewood         Richard Kaye

     Eras(mus) Darwin              Read Dec 18th 1788

     James Watt
                                     1 Jany 8th 1789
     Joseph Priestley                2 ---- 15
                                     3 ---- 22
     W(illia)m Withering             4 ---- 29
                                     5 Feby  5
     James Keir                      6 ---- 12
                                     7 ---- 19
     Matthew Boulton                 8 ---- 26
                                     9 Mar   5th
     Sam(ue)l Galton Junr           10 ---- 12

                             Ballotted for and elected March 19
     Rob(er)t W.Darwin                   1789


[Note: Robert W Darwin was son of Erasmus and father of Charles.
See Paul ELLIOTT for an outline of these signatories and the Lunar Society]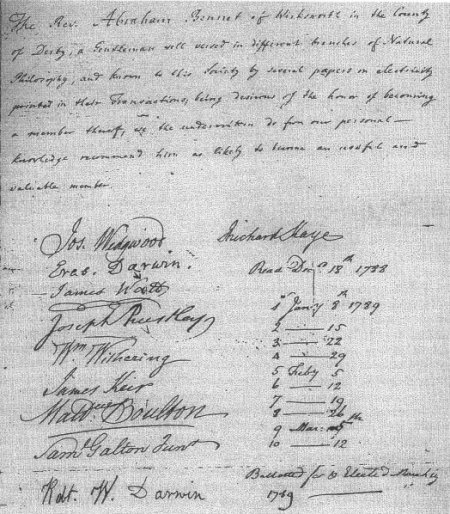 Transcribed, compiled, formatted, hyperlinked, encoded, and copyright © 2005, John Palmer,
All Rights Reserved.