| | | |
| --- | --- | --- |
| Updated 25 Nov 2010 | WIRKSWORTH Parish Records 1600-1900 | |
<!==================================================>
The Last Lady of Wirksworth Hall
This research into Cicely Eleanor Meade-Waldo, (nee Chandos-Pole-Gell) was carried out by Max Hodnett, who kindly allowed John Palmer to add it to his Wirksworth website. Anyone with more information on this subject please email , see emails.
1. The Last lady of Wirksworth Hall
Wirksworth Hall in 1920, two years before its demolition.

The life of Cicely Eleanor
Meade-Waldo, nee Chandos- Pole-Gell - from Hopton Hall, via stately homes in Kent, to the doomed Wirksworth Hall.
Radbourne Hall, in the 1860s, the home of the Chandos-Pole family.

2. A girl born into privilege
Edmund Meade-Waldo (1829-1896) with daughter Margaret Alice, Then aged two, in September 1884. Margaret (1882-1954) was the elder of two daughters born to his second wife, Cecily Eleanor (nee Chandos-Pole-Gell). The family lived at Stonewall Park, Kent. After Edmund died Cecily (1853-1935) moved to Wirksworth Hall, possibly to be near her Chandos-Pole-Gell relatives at Hopton Hall. Where she lived after the hall was demolished in 1922 is not known.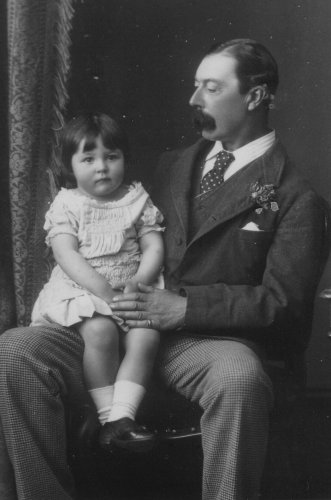 Cicely Eleanor Meade-Waldo (1853-1935), who was the last traceable occupier of Wirksworth Hall, came from the landed Chandos-Pole family, of Radbourne Hall, near Mickleover, just south of Derby.
She was born into privilege. For in 1842, eleven years before her birth her father, Henry Chandos-Pole (1829-1902), had inherited Hopton Hall and estate from Philip Gell — in 1865 he took the surname and arms of Gell.
It was not until the early 1930s that his son and grandson relinquished the name.
The connection to Hopton had begun to be severed as early as 1902 when Brigadier-General Henry Chandos-Pole-Gell came into his inheritance on the death of his father.
His main seat was at Heverswood, Kent, and Hopton was let to Philip Lyttleton Gell, a member of a cadet branch, from 1904.
Finally, in 1920, Philip bought the estate — he was descended from Ralph Gell (1491-1564).
However, Cicely hardly had a settled childhood. In census returns she gave her place of birth as Barton Fields, Barton Blount, a small village between Derby and Uttoxeter. But her birth does not appear in the General Register Office records — registration was not compulsory until 1875.
Her baptism does not appear in the Carsington or Wirksworth registers; those for Barton Blount and Radbourne, are not on on-line.
Whether she spent her childhood at Hopton or Radbourne is not clear, but she may well have been living at Hopton in 1879, the year she married Edmund Waldo Meade-Waldo at St Margaret's, Carsington. He had two addresses in Kent — the noted Hever Castle (childhood home of Anne Boleyn) and Stonewall Park, Chiddingstone.
Hever Castle was owned by the family from 1749 to 1903, but in the latter years it was let and the family mainly lived at Stonewall Park.
This was Edmund's second marriage. The first, to Harriette Ellen Becker, who died in 1875, produced a son, Edmund Gustavus, and a daughter, Ellen Harriette Augusta.
Edmund Jnr. became a noted ornithologist and conservationist. He collected birds in the Atlas Mountains, the Canary Islands and Spain, the presumably extinct Canarian Black Oystercatcher (Haematotus Meade- Waldoi) being the foremost among them.
Edmund also took a leading part in the conservation of the Red Kite in Wales.
So this was the family that the young woman from Derbyshire joined on her marriage in 1879.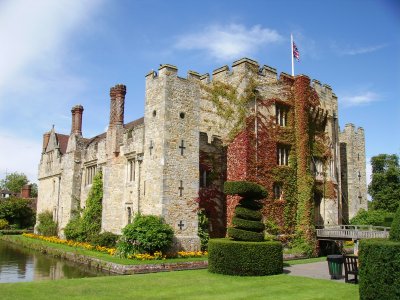 3. The homes in Kent
Parts of Hever Castle date from the 13th century. It was the childhood home of Anne Boleyn but the property came into the possession of Henry VIII after the death of Anne's father, Thomas Boleyn, in 1539.
Henry bestowed it upon his fourth wife, Anne of Cleves, in 1540 as part of the settlement following the annulment of their marriage.
From 1557 onwards it was owned by a number of families, including the Meade-Waldos, 1749-1903. By this time it had fallen into a state of disrepair. It was acquired and restored by the American millionaire William Waldorf Astor. He also laid out the gardens.
Since 1983 the castle has been owned by Broadland Properties Ltd. and is open to the public.
Right: Stonewall Park, Chiddingstone, near Edenbridge, Cicely's home until she was widowed in 1896
By 1901 she was installed at Wirksworth Hall and before long was having to deal with the first signs of subsidence.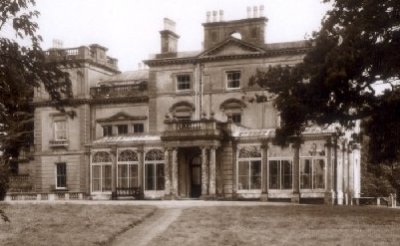 Cicely was to have two daughters — Margaret Alice (Tangier) (1882-1954) and Katharine Auriol (1883-1917).
Edmund died in 1896 and Stonewall Park was taken over by her stepson, Edmund Jnr.
It is quite possible that her move back to Derbyshire was prompted by a desire to be near other members of the Chandos-Pole family, who still had Hopton Hall and estate.
So came a move to another stately home — Wirksworth Hall. In 1901 she was 48 and the younger daughter, Katharine, then 17, was with her. They were looked after by a lady's maid, a cook, a parlourmaid and and housemaid.
The whereabouts of the elder daughter, Margaret, are not known. Three years later she was to marry Edward Wilhelm Hay-Drummond and had two sons, John Waldo (1906) and Peter (1909), the latter being baptised at Wirksworth.
The Hay-Drummonds provided several diplomats over the years — from 1786 to 1936. There is another link for Cecily was a niece of Sir John
Hay-Drummond-Hay (some members of the family, including Margaret's sons, affected an extra Hay).
Two served in Morocco, including Tangier, which may be why Margaret had an extra first name, Tangier, but always given in parentheses, suggesting that was a nickname widely used.
In 1909, Katharine married a priest —John Henry Freake Van, Rector of Radbourne, near Mickleover, from1895 to 1911. (In one record this is erroneously given as Bradbourne, which is near Ashbourne.)
They had a daughter, Auriol Elizabeth Edith in 1910.
The Chandos family have lived in the Radbourne region since the 13th century and the Chandos-Poles since the 15th century. Radbourne (frequently spelled Radburne) Hall was built by German Pole about 1750 and is today occupied by Maj. John Walkelyne Chandos-Pole and his family.
Bonnie Prince Charlie was supposed to have lunched with the Pole family in 1745 when his ill-fated march reached Derby.
John moved on to become Vicar of Swymbridge, North Devon, where he died in 1915.
Katharine remarried in 1917 — to John Gordon Young. They had a son. Details have been withheld because he was stated (in 2010) to be still living.
To return to Wirksworth ... the first indications of subsidence problems came in 1906 from entries in the Barmote Ledger.
An investigation was carried out by Samuel Sheldon, who found that the main problem was an old mineshaft.
He and three other men carried out repairs and in July Mr Sheldon wrote to say that this had been completed. This was addressed to the agent of the previous owner, the Price Woods, which suggests that it was that family's responsibility.
So we can surmise that Cecily was a tenant, not the owner, unless there was a clause in the sale contract under which the Price Woods had to retain responsibility for any faults that might emerge.

Henry Chandos-Pole, Cicely's father. He inherited Hopton Hall and its estates in 1842 and later took the name Gell.
4. The Gells leave Hopton Hall

Philip Gell (1852-1926) rented Hopton Hall and estate from the Chandos-Poles in 1904, buying it in 1920
He died without children and the estate passed on his widow's death to his nephew, Phil Victor Willingham Gell
He died in 1970. After the death of his widow in 1986 the house and estate were sold and the contents sold at auction.
His son Major Anthony Gell, died in 1998. At the dawn of the 21st century, the new head of the family, his son, Adrian, wrote in the Old Wirksworthian Reflections souvenir magazine: "It was with some humility and certain trepidation that I donned, albeit without the ancient lands, the 'squires Cap'"
He added: "Whilst no member of the family currently lives within its (Derbyshire's) bounds, perhaps one day in the future, just one fine day ....who knows what the future might hold?"
In 1996 the hall was bought by the Brogden family who restored the gardens. Much of the estate has been swallowed up by the Carsington reservoir.
Today, the house and stables are holiday lets.
Waldo is a Germanic name. Many emigrants settled in the United States, but some put down roots in Britain. According to a register of "alien arrivals" (covering 1810-1869) four Waldos came here, three landing at Dover and one in London. Three gave their place of origin as Prussia and one, America. It is assumed that an earlier Waldo immigrant married a Meade, hence the hyphenated name borne by Cecily's husband.
Family Easter at The Grange - looked after by 10 servants.
Cicely was found in the 1891 census,but only after some difficulty. For her name had been transcribed as "Walds" (sic) and the Meade part of the surname appeared as a forename initial M.
Furthermore, she surfaced in Hampshire.
She, husband Edmund and their two daughters were staying with a daughter of Edmund's first marriage — Ellen. She had married Charles Morant Churchill and their home was Everton Grange, in the parish of Milford.
The census count in 1891 was taken on April 5, a few days after Easter. So it is likely they were at the Grange for the holiday.
Charles Churchill, then 48, was described as a retired lieutenant- colonel and a JP. He and Ellen had a seven-year-old son, Charles Waldo, and a daughter, Frances (10).
They lived in some style, for they had ten living-in servants, including a butler and a groom. All ten, whose ages ranged from 17 to 49, were said to be single.
Charles gave his birthplace as Buckland Ripers, Dorset, a small village a four miles from Weymouth.
There, the Churchill family had bought the lordship of the manor and in 1851 his father, George, an engineer, was living at Buckland Ripers House. An 1844 directory lists a Rev. George Churchill.
However, in the parish registers an M. Churchill is named as officiating at baptisms at about this time.
At the time of the 1879 census, Charles was a lieutenant serving with the 50th Queen's Own Regiment of Infantry at South Camp, Aldershot. The regiment was formed in 1755 and underwent several changes of name.
It was disbanded in 1881 and amalgamated with the 97th (Earl of Ulster's) Regiment of Foot to become the Queen's Own (Royal West Kent) Regiment.
This cup and cover, made at Wirksworth from white clay obtained from Brassington, belonged to Cicely Meade-Waldo. A magazine article in 1918 referred to a design incorporating roses, honeysuckle and foliage.
It added: "This specimen is authentic beyond question as Mrs Meade-Waldo has an interesting little document, which is both ancient and conclusive, stating that it was made at the china works, Wirksworth."
5. Comforter of the sick and distressed
A son of Wirksworth pays tribute to the widow who became a public figure
Cecily Meade-Waldo spent an active widowhood at Wirksworth and was well qualified to be described as "a public figure".
Hubert Harrison, one of three sons of council chairman William, after whom Harrison Drive was named, described her as "an ardent church worker and district visitor who never failed to comfort the sick and the distressed".
She was a local representative on the Belper Board of Guardians.
Mr. Harrison, a journalist who became editor of the Evening Advertiser, Swindon, wrote in his unpublished memoirs that Mrs Meade-Waldo bequeathed to him "a number of ancient deeds on parchment with her notes on local customs, characters, events, lapsed trades and occupations and the like that she had collected from old people who alone knew the facts".
She hoped that if he should ever write a book they might be useful. Mr. Harrison did not do so and he added that he had "deposited them with the Derbyshire County Archivist and they are available to any future historians who may wish to consult them".
However, a present-day internet trawl of the holdings at Derbyshire County Record Office failed to locate them.
An intricate trail eventually led to the Bodleian Library at Oxford University. There, among the papers of the Drummond-Hay family appears the following:
"Papers of Cecily Eleanor Meade-Waldo, including journals, correspondence and notebooks."
Access to the library's records is by reader's ticket only and the conditions for obtaining one are onerous, preference being given to Oxford graduates. Applicants must also satisfy the library about the use to which research will be put.
A consolation prize came as a result of a search at Matlock Local Studies Library. This holds a copy of the 1910 Journal of Derbyshire Archaeological and Natural History Society.
This contains an article by Mrs Meade-Waldo about the "History and Customs of Lead-mining in the Wapentake of Wirksworth".
This is a must-read for anyone even only slightly interested in Wirksworth's lead-mining legacy.
(If you are responsible for compiling quiz questions you might like to know that a meer is a measure of ground — 29 yards in length in the Low Peak, but 31 yards in the High Peak. "Not many people know that . . ." but Mrs Meade-Waldo did.)
As well as pursuing these researches and involving herself in charitable works, Mrs Meade-Waldo collected items of Wirksworth china.
An issue of The Connoisseur magazine of 1918 carried a feature about the long-defunct china factory at Holland Manor House, St Mary's Gate. This is illustrated by a photograph of a cup and cover (1759-1777) owned by Mrs Meade-Waldo.
She was mentioned in a 1902 newspaper account of Wirksworth's welcome-home for its Boer War soldiers, each of whom was presented with a solid silver cup, bought by public subscription.
She was among the VIPs on the platform erected in the old Market Place. Among the returning heroes was her half-brother, Captain Henry Chandos-Pole, Coldstream Guards, of Hopton Hall.
When he arrived at Wirksworth railway station a few days earlier she was there, with one of her daughters, to greet him and accompanied him through the town in a brake.
The days of rejoicing threw up a further link with Wirksworth Hall. Another of the soldiers was Lt. (John Nicholas) Price Wood, 12th Prince of Wales's Royal Lancers, and looking on proudly from the platform was his father, described as "Mr J. B. Wood, of Henley Hall, Salop".
He gave a vote of thanks to the organisers, who were headed by Dr A E Broster
John Baddeley Wood, descended from a Burslem pottery family, had married his cousin, Marianne Wood, daughter of Nicholas and Agnes Eleanor (nee Hubbersty) Wood, the previous occupants, since 1858, of Wirksworth Hall.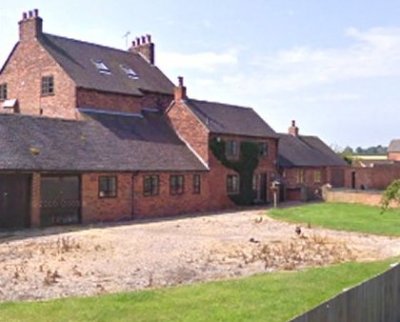 Barton Fields, Barton Blount, in South Derbyshire, presumed to be Cicely's birthplace. Today, the house and outbuildings have been converted into offices and workshops.

Cicely died in a nursing home in Hampshire in 1935. It is worth noting that her home address was given as Wirksworth.
7. The Downfall of Wirksworth Hall
The Barmote Ledger for 1906 tells the story.


Stuart Flint writes:
The men employed on the Wirksworth Hall Repairs were
June 26th 1906.
William Haines paid 3/4.
John Bacon 3/4.
Jacob Doxey 3/4.
S.J Sheldon 6/-.
The same men worked through that week and following weeks up to July 10th earning the same money.
I have other letters concerning the subsidence.
Material for the infilling of the shaft etc was purchased from N Wheatcroft and Son via an agent Jabez Hadfield at a cost of £11 -5 - 6 with an extra cost of carting of same of £4 - 17 -5 with a further load of Caulk for infilling of £3 - 4 -2
The work was completed by July 10th 1906 with the following letter sent to the Agent of Price Wood
Middleton By Wirksworth July 10th 1906
Dear Sir
I have today completed the work at the subsidence in Mrs Meade Waldo's garden hoping the same will be found satisfactory
Yours Respectfully, Samuel J Sheldon
Wirksworth Hall in Coldwell Street was demolished in 1922, due to subsidence as it had been built over an old mine. First inklings of the problems to come are found in entries in the Barmote Ledger for April-May 1906. At the time it was being lived in by Cecily, widow of Edmund Meade-Waldo. Thanks to Stuart Flint for sending scans of the book from which these transcriptions were made.
Page 69 Wirksworth subsidence. April 25th [1906]
Dear Sir,
I have today examined the shaft that the sewerage pipes are at and find some portions of it stand on wood. The drainage that comes down here is not the only cause of this subsidence. About 35 feet down this shaft is an open space about 12 feet wide but on the South side of this space is an open joint or Rake Vein that has been cut. There is a shaft in this vein 7 or 8 yards down to some sewerage deposit that comes along the vein from the other houses nearer the Royal Oak. This I believe is the principal cause of this subsidence. It must have been coming on here some time as it has brought down the wall out of one end of this shaft. I have had an Iron rod down into sewerage deposit 10 feet deep and find no solid bottom to it whether this is only partly blocked down and this sewerage lying on the top I cannot say but I certainly should put Iron rails across as it is down in the rock and uncertain what is below.
Awaiting your instructions,
Yours respectfully, Samuel J Sheldon
Page 70 Wirksworth subsidence, Apl 25th [1906]
Yours this morning. By all means with dry stone fill no 1 shaft up. The danger is No 2 shaft this is on another distinct vein running South West and North East these two veins cross each other just on the back side of this shaft and certainly at this point the veins would be wider and in all probability be set off wood and with this sewerage running on No 2 vein would certainly rot this wood and draw down the refuse from above the brake? may have started lower than I can see but by all means stop any from from coming down from above you. If you decide decide to fill up both the shafts then all well and good the stone would have to be let down then lifted over this ridge of Limestone and ? into the sewerage deposit. My suggestion for Iron Rails was to look what mischief there was beyond this point towards that Big wall that has shown signs of coming down This vein runs right under the corner of it I enclose for your inspection just a rude sketch
Yours Respectfully, Samuel J Sheldon, Deputy Barmaster
Page 71 Middleton Wirksworth May 1st 1906, Wirksworth subsidence
Dear Sir,
35 feet down No 1 shaft is the floor of this shaft as far as I can see and 10 or 12 feet wide this width is extended till it takes in the side of the other vein in which shaft No 2 is carried lower down. 7 or 8 yards lower down than the floor of No 1 is this sewerage deposit that comes along that vein No 2. Nothing coming down No 1 would find its way into No 2 they are two distinct veins with a ridge of limestone between them. Its no use poring [sic] anything down at the other houses and expect to see it drain? No 1 shaft this has no connection. These houses are connected only with that vein that goes towards the Royal Oak and the outlet of that appears 7 or 8 yards lower than the floor of No 1 shaft and more South. If Mr Wood wishes the drains to remain in as they are and run the risk of any further subsidence then almost anything will do for filling up with.
Page 72
No 1 shaft receives Hawley and no other. No 2 shaft the other houses and can only be seen by going down 35 ft and standing in the vein along which the sewerage comes in the sides of the vein you can see whence it has come down.
Yours respectfully, Samuel J Sheldon.
8. The Hall and its estate go under the hammer
The Hannages in 1917, with Wirksworth Hall and the old Grammar School to the right.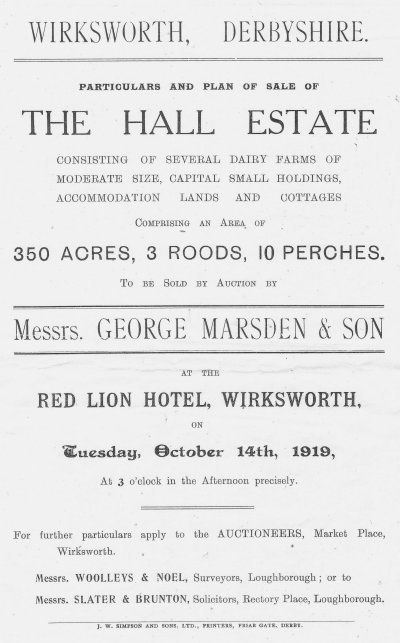 From OS map - 1922 edition
The Hannages in 2009 - houses stand in the hall gardens.

9. Lot 11 - The Hall and Pleasure Grounds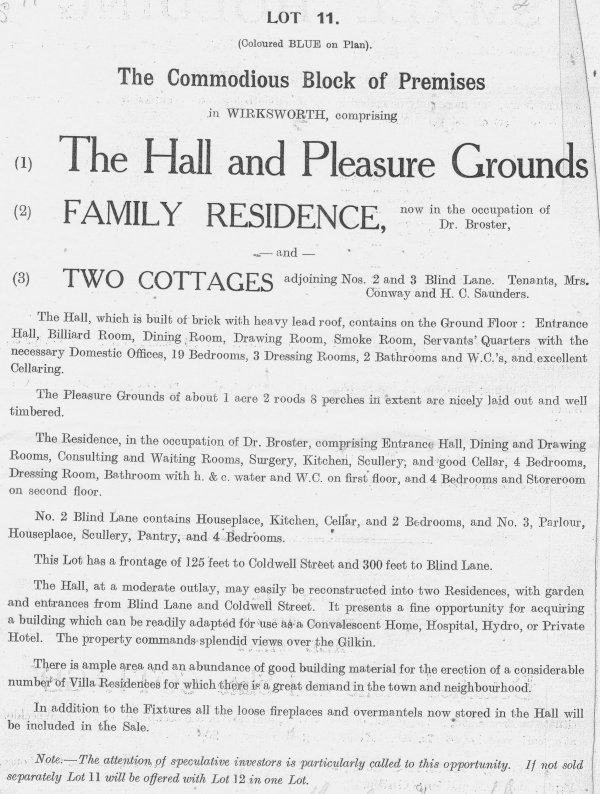 Many of the lots were farms and cottages on the eastern side of Wirksworth. The hall and the adjoining Hannages field were split into two, as Lots 11 and 12.
Lot 11 (above) comprised the hall and virtually all of the "pleasure gardens", a large house rented by Dr Broster for £40 a year and two cottages.
The warning signs of subsidence appear to have gone unheeded for the auctioneers referred optimistically to the possibilities of converting the hall into two residences, or being adapted for use as a convalescent home, hospital, hydro or hotel.
It was just as well no-one took up any of these suggestion for the subsidence-affected hall had to come down only three years later.
There is no official record of the successful bids. However, faint pencil markings on the catalogue suggest that G S Marple may have paid £1,250 for the hall and two cottages.
Confusingly, however, he is listed as paying £650 for two cottages and several outbuildings, including stables and a coach house. There is no mention of Dr Broster's house.
According to the sale documents, the hall was last previously sold in December, 1858, presumably to Nicholas Price Wood, a banker. This reinforces a view that Cecily Meade-Waldo was a tenant.
10. Lot 12 - The Hannages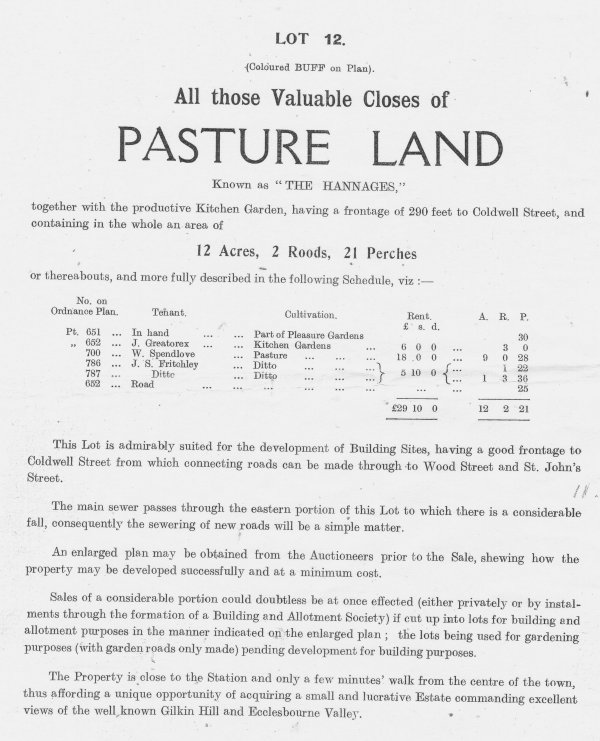 A small part of the hall's "pleasure gardens", plus kitchen gardens rented by J Greatorex, were parcelled up with the The Hannages, described as pasture land but in years to come used for football by the grammar school and for some community activities.
Consequently, the lot is described as having a frontage of 290 feet to Coldwell Street, compared with 125 feet for the hall. The reason is undoubtedly to give road access to The Hannages, which would otherwise be isolated.
This was important for the auctioneers said that the lot "is admirably suited for the development of building sites (or allotments)".
They add: "There is ample area and an abundance of good building material for the erection
of a considerable number of Villa Residences for which there is great demand in the town and neighbourhood."
But the small print mentioned that the urban council's sewer ran across The Hannages and that grammar school maintained rights of way (granted in 1887)— as did the tenant of Nether House (demolished in the 1930s). Furthermore, the purchaser of a separate parcel of land had a right of horse, cart, cattle and carriage way.
Apart from these complications, perhaps the demand for "Villa Residences" was not so great after all for the only eventual development was a latter-day improvement of the sports field.
The Hannages continues to be a valuable "lung" for the town.
11. You are invited - The Menu
The summer's day
they pushed
the boat out at
Wirksworth Hall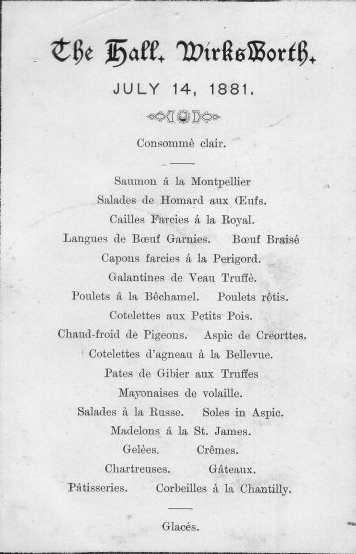 The trail that led to an exploration of the life of Cecily Eleanor Meade-Waldo (nee Chandos-Pole-Gell) began with the discovery of this exotic menu served at Wirksworth Hall in 1881.
The menu appears to be for a buffet, but what the special occasion was remains to be discovered.
At that time the hall was owned by Agnes Eleanor Wood, the 69-year-old widow of a banker, Nicholas Price Wood (1810-1868), originally from Burslem, Staffs.
Agnes placed a stained glass window in Wirksworth Parish Church in his memory and also that of their elder daughter, Mary, who died of diphtheria, aged 11. Agnes (1812-1892) was the daughter of the Rev. Nathan Hubbersty, who was head of the grammar school.
According to the 1881 census Agnes had living with her a three-year- old grandson, Nicholas, a two-year-old grand-daughter, Mary Dorothy and five living-in servants.
There was a butler, John Benyon (aged 47), later to be a founding member of Wirksworth Labour Party and a party agent.
His son, also John, married Millicent Harrison, whose brother was council chairman William John Harrison (after whom Harrison Drive was named).

From The Times, Jan 25 1862
Other living-in servants were a nurse, Emma Benyon (21), probably the butler's daughter, and three maids— Elizabeth Cook (45), Jane Griffiths (26) and Mary Ann Taylor (16).
Surprisingly, there is no mention of a cook, which poses the question: Who catered for the banquet later that year?
Ten years previously, there had been eight living-in servants, including a cook, Eliza Steeples (31).
Possibly the cook was absent on census night in 1881 or she did not live in.
Frustratingly, the hall does not appear in the 1891 census returns and by 1901 Cecily Meade-Waldo was in residence with a daughter, Katherine (17) and four servants.
Butler Benyon had retired and was living nearby at 39 Coldwell Street.
So who, on July 14, 1881, feasted on salmon, beef, pigeons and lamb, to name but a few items on the menu — and what was the occasion?
12. Hall rebuilt for the newlyweds.

Sir Richard Arkwright's success with his cotton-spinning mill at Cromford inspired him to better himself socially as well.
The leading family in the district were the Hurts of Alderwasley Hall, which they had inherited in 1690.
They were great landowners, lead merchants and iron manufacturers.
And it was to Francis Hurt's second son Charles, that one of Arkwright's daughters, Susannah, was married in 1780 and they made their home at Wirksworth Hall.
For the eldest son, also Francis, was in line to inherit Alderwasley Hall, which he did in 1783.
When the Hurt family acquired the property at Wirksworth is not known, but Charles's father, Francis (born in 1722), lived at Wirksworth (address unknown) before succeeding to the estate at Alderwasley.
In preparation for the move of Charles and Susannah it was rebuilt in 1779, a year before their marriage.
The architect for the rebuilding was almost certainly Joseph Pickford, of Derby. The hall was two-and-a-half storeys high. A two-bay, single-storey ballroom was added in the 19th century.
We have no description of the original building or its early history.
The entrance gates, removed to Henley Hall, Shropshire, in about 1900, have been attributed by English Heritage to Robert Bakewell, of Derby, England's foremost wrought-iron smith of his day.
He died in 1752 — 27 years before the rebuilding — and a date of about 1725 has been suggested for the gates.
It has been said that the hall was originally built, not rebuilt, in 1779. But the existence of the gates well before then confirms that there was indeed a forerunner.
Among Bakewell's finest works are the gates of Derby Cathedral and an arbor at Melbourne Hall.
Charles Hurt continued the family's lead-smelting business at Wirksworth. He acquired a reputation as a builder of soughs. He was to become a deputy lieutenant of Derbyshire, and sheriff in 1797.
He died in 1834 and his wife one year later. Their eldest son, Charles, died in 1852 and the second, Richard, a year earlier.
The hall was bought by Nicholas Price Wood in 1858.


From The Times, 19 May 1897, dau of Richard Hurt
(1785-1851), and granddau of Charles Hurt

CHARLES HURT (1758-1834)
painted by Joseph Wright of Derby

SUSANNAH and daughter
MARY ANN HURT
painted by Joseph Wright of Derby
When the Wood family gave up Wirksworth Hall in about 1900 they took with them the entrance gates, the work of the renowned Robert Bakewell.
They now stand at the entrance to Henley Hall, near Ludlow, Shropshire.
Thanks to Barry Joyce for this picture.

13. The Woods: A murder in the family
SIX YEARS after the death of the last of the Wirksworth Hall Hurts, the estate was bought, in 1858, by Nicholas Price Wood, a banker by profession but a member of a long line of pottery manufacturers. His wife was a Wirksworth Hubbersty, of whom more later.
The Woods, whose pottery was at Burslem, had links at one time with the pioneering Wedgwoods. One was apprenticed to Thomas Wedgwood, a relative of the more famous Josiah, in the 1730s. A Ralph Wood (1715-1772) married a Mary Wedgwood and this name was perpetuated as a second name in several Wood generations.
According to A History of the County of Staffordshire, Vol. 8, published in 1963, Ralph's son, John built Brownhills House and a pottery nearby in the 1780s.
John (1746-1797) was to meet an untimely end— murdered by Dr Thomas Millwood Oliver, the disappointed suitor of John's 20-year-old daughter, Maria. Oliver, described as a surgeon and apothecary, was hanged at Stafford Prison, his execution being delayed when the gallows broke and had to be re-erected.
John was succeeded by his son, another John (1778-1848), who in 1830 demolished the factory, enlarged the house and laid out the grounds so that by about 1840 it was considered that Brownhills House could "for amenity of situation challenge any residence within the borough".
The 20-acre estate was still owned by the Wood family in 1912; by 1960 it was a girls' high school.
Among members of the family living at Brownhills at the time of the 1841 census was the last-named John's son, Nicholas Price Wood (1810-1868). On April 27, 1843, he married Agnes Eleanor Hubbersty (1812-1892) at Darley Parish Church (Dale was not added to the name until the late 19th century).
Agnes was the daughter of the Rev. Nathan Hubbersty, headmaster, like his identically named son, of Wirksworth Grammar School, and her brother conducted the service. She gave her address as Stancliffe Hall, Darley, a Grade II-listed building which later became a school. Why she had moved there from Wirksworth, where she had been living with her widowed mother and her brother and his family in North End, is not apparent.
The ancient hall has had several owners; in 1821 it was inherited by Andrew Heathcote Heathcote (formerly Shepley) and in 1854 it was bought by Joseph Whitworth, the engineer (and philanthropist) who invented the screw thread that bears his name. He rebuilt the hall but did not move in until his retirement in 1871.
Nicholas and Agnes made their home firstly at Bignall End, near Newcastle-under-Lyme, but in 1858 came the move to Wirksworth Hall.
They were to have two daughters — Mary Agnes (1850-1862) and Elizabeth Marianne (1855-1931). In 1876, the latter married a first cousin, John Baddeley Wood, a barrister, then living at The Westlands, Wolstanton, near Newcastle-under-Lyme.
His father, Edmund Thomas Wedgwood Wood, was the younger brother, by 12 years, of Nicholas.
On the death of Agnes in 1892, the Wood link with Wirksworth Hall was severed; the next, and possibly final, occupant was Cecily Meade-Waldo.
Cheers as
Agnes Wood
signals start
on railway
Agnes Wood (nee Hubbersty) was very much the lady of the manor. For instance, when a ceremony, complete with marching bands and watched by thousands, was held to mark the start of work on the Wirksworth branch railway in 1865, she was asked to cut the first sod with a silver-coated spade.
According to the Wirksworth Advertiser, she gave an address to the multitude thronging The Hannages.
The account continued: "The spade being handed to Mrs Wood, she proceeded to cut the sod, which she accomplished quite satisfactorily and placed it in the barrow. She was then requested to cut another, which she did, and, both having been loaded, she wheeled the barrow a distance of eight or ten yards, and then emptied its contents, amidst enthusiastic cheers."
Thirty-seven years later Wirksworth was again en fete, this time to welcome home soldiers from the Boer War, and the Woods were again represented.
On the platform erected in the Market Place was none other than John Baddeley Wood.
By then, he and his wife, cousin Elizabeth, were living at Henley Hall, near Ludlow, Shropshire, an estate graced by the gates that once guarded the entrance to Wirksworth Hall.
Their eldest son, another John Nicholas Price Wood (1877-1962), a lieutenant, was among the returning soldiers.
14. A conundrum in Coldwell Street
THE house pictured right, today called The Old Manse, is an echo of the long vanished Wirksworth Hall. It has been suggested that it was the estate's dower house, i.e. a home for the widow or dowager. It was a quite separate building from the hall, as were the estate cottages and stables in Blind Lane.
However, in an article that appeared in Derbyshire Life and Countryside in 1979, Barry Joyce surmised that it may have been built either for the estate's agent or for a younger brother as the name R. S. Hurt had been scratched on an upper window. The second son of Charles and Susannah (nee Arkwright) Hurt was named, Richard; he was born in 1785, six years after the hall was rebuilt.
When the hall and estate were auctioned in 1919 there was no specific mention of this house. However, the sale did include a "family residence now in the occupation of Dr Broster". This was described as a spacious house with eight bedrooms as well as the usual living rooms, plus consulting and waiting rooms and a surgery.
The doctor was Arthur E. Broster, who was born in 1854 and who died in Devon in 1923. Website comments have led to occasional confusion with his son, Dr Edward Davenport Broster, born in 1892, who wrote and produced the floodlit pageant, A Wood Called Pity, in 1953.
In living memory the latter lived and practised immediately across the road from the Old Manse — in The Gables, today known as the Manor House, a private residence.
It has been assumed that The Gables was the doctor's residence referred to in the sale catalogue, for it, too, is a spacious building. But equally it could have referred to the Old Manse, which otherwise is not mentioned as such.
To muddy the waters further, in the 1891 census Dr Arthur Broster was said to be living in Coldwell Street — no number is given. But in 1901 his address was given as No. 1 Blind Lane (possibly a mis-description of the Old Manse, which is on the corner of that lane) and in 1911 as Coldwell Street again — still no number. Son Edward was 18 at the time and a medical student.
At some point, possibly when the estate was sold in 1919, one of the two Dr. Brosters moved across the road to The Gables/Manor House (not to be confused with the Green Gables, also in Coldwell Street).
The Journal of Derbyshire Archaeological Society of 1910 lists a member giving her address as The Gables. That person was? Yes, Mrs Meade-Waldo! Why? Was the hall already becoming uninhabitable?
She seems to have eluded the 1911 census-takers, but her lady's maid at the hall in 1901, Emma Pearson, was living at The Gables in 1911, still described as a lady's maid. No head of household was listed, meaning that that person was away on census night.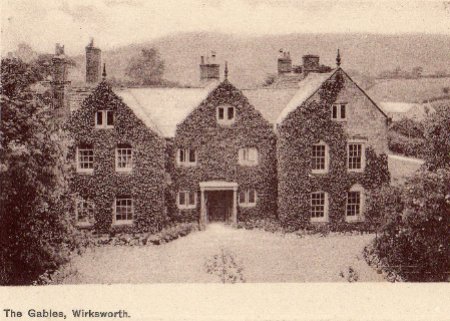 The Old Manse and (below) adjoining properties
in Blind Lane that also belonged to the hall.

Left: The Gables, taken from a 1920s postcard, and (below) as it is today, under the name of the Manor House.

I owe a debt of gratitude to several people, without whom these notes could not have been written. Foremost among them is JOHN PALMER, who generously let me plunder his website, a veritable encyclopaedia of facts and figures about Wirksworth down the ages.

BRENDA ROWLAND, with her seemingly inexhaustible knowledge of local people and places, left no proverbial stone unturned in quizzing townsfolk and helping to flesh out rudimentary facts. Coincidentally, her grandfather, William Gallimore, was bandmaster on the day Wirksworth welcomed home its Boer War heroes in 1902.

DOROTHY WIGLEY, too, has been exceptionally supportive and steered me on to the right track and I am also grateful to JOY WEBSTER for the loan of her 1979 copy of Derbyshire Life and Countryside with its extensive article on Wirksworth Hall.

Finally, my thanks go to JOHN BUCKLEY who interrupted his hectic "retirement" to retrieve a copy of the Wirksworth Hall sale particulars from Derbyshire County Record Office.

And there is almost bound to be someone whose name has slipped my mind . . . apologies and thank you, too!

— Max Hodnett.
----Anyone with more details for publication on this webpage, please email ----
Stuart Flint writes:
Dr Broster lived at the large house opposite Wirksworth Hall now known as The Old Manor House owned in recent years by Dr Fletcher and then by Justin Flint (not my Flint family). Justin was an Antique Dealer at Ashbourne, his family originating from West Hallam now a 5***** Guest house owned by Spurrier - Smiths.
Dr Broster in the 1950s produced a Pageant called Pitty Wood which took place twixt Wirksworth Recreation Ground and Pitty Wood which is the wood next to Callow Park going over to Hopton and Kirk Ireton. It was a fantastic production with most of Gell Grammar School pupils taking part along with parents and many townspeople
I attended with my father as part of their audience ..A tiered seating was provided on the Football Pitch mother taking part in the production my sister and brother also acting in the show my brother a Roman Soldier he and his mates from the school acting out their scene on the Recreation Ground (Cricket Ground Area) and I believe my sister was a Nymph who played her part in the wood itself wwith my mother ..The Wood was Spot-Lit and Music played from Speakers up in the Wood ...
Wirksworth Hall is still standing to my knowledge a Director of Wyverne Rail living in the house be it a much smaller building as the part which stood on the ground which was subsiding was demolished... At the side of the Hall where once the gardens etc were, is where Websters Haulage used to have their depot, (In my late teens used to accompany one of the drivers, he a friend of my family who was on sub contract to Beaties Haulage Manchester who hauled Coal from Denby Drury Lowe Coal Mine to Trafford Park Power Station Manchester twice a day every day for many years) now a private residential housing complex, one of my kinsmen living in one of the houses (called Wirksworth Hall Gardens).
Regards Stuart G Flint
Compiled, formatted, hyperlinked, encoded, and copyright © 2010, All Rights Reserved.