| | | |
| --- | --- | --- |
| Updated 2 Feb 2010 | WIRKSWORTH Parish Records 1600-1900 | |
<!==================================================>
Richard Mason the convict.
Richard Mason was born in Wirksworth 1806, convicted of stealing chain from a mine in Carsington, sentenced to be transported for 14 years in Mar 1830, and arrives in Van Diemen's Land on 18 Aug 1830 in the prison ship "David Lyon". He absconds on 12 Sep 1831 and vanishes from History. Hopefully more will be found of what happened to him. Did he ever come back to his homeland?

      1750            1747                  1758            1762
      Richard 1775    Anne                  George  1783    Martha
      MASON=====v=====TAYLOR                ROOSE=====v=====WOODROUGH
      1796      |     1821                  1836      |     1825
                |                                     |
  |--------|----|----|-----|               |-------|--|---|----|------|---------|--------|------|----|------|------|
  |        |         |     |               |       |      |    |      |         |        |      |    |      |      |
 1781     1784      1788  1786            1783    1785   1787 1789   1791      1793     1795   1799 1797   1802   1804
 Margaret Elizabeth Ann   James   1805    Hannah  George John Martha Catherine Milicent Edward Ruth Thomas Edward Eliza
                          MASON=====v=====ROOSE
                          1813      |     1821
                                    |
                        |--------|--|---|-------|
                        |        |      |       |
                       1806     1807           1813
                       Richard  James  George  Elizabeth
                       MASON           1807    1814

From: Derbyshire Criminal Records by Jean Durbin

The Derby Assizes, Borough Sessions and Quarter Sessions dealt with the more serious offences from people who had passed through a lower court such as Petty Sessions, the Derby Borough Police Court or the Derby County Police Court.
In some circumstances those charged were liberated on bail but the majority spent time in gaol until their case came up for trial.

1830 Richard MASON 23 larceny 2 cases larceny Swang Mine Carsington 7 years transportation on each

Richard Mason/stealing iron chain/hulk "Retribution"/Sheerness/ 1830/Van Diemens Land/ship "David Lyon"/
From: Mike Spencer
To: derbysgen@rootsweb.com
Sent: 24/01/2010
Subject: Wirksworth Walkabout
From the Hobart, Town Courier of Tasmania.
Absconded.
Richard MASON 5ft 11 inches, dark brown hair, light brown eyes, 25 a miner and well sinker, tried at Derby Mar 1830. 14 yrs per David Lyon native of Wirksworth, thin man absconded Mr William Nicholl, Clarence Plains 12 Sep 1831 .Reward £2.
Archives Office of Tasmania - digitised record
Name: Richard Mason
Trade: Farm Labourer
Native place: Wirksworth, Derby
Height: 5 ft 11
Age: 24
Complexion: dark
Head: round
Hair: dark brown
Whiskers: dark brown
Visage: oval
Forehead: high
Eyebrows: dark brown
Eyes: light brown
Nose: long
Mouth: wide
Chin: Medium Long, dimple in centre
Remarks: thin man
Prunella writes:
There were others committed to the Gaol at the same time as Richard, so I have extracted the Richard MASON section.
Derby Mercury Wednesday March 3 1830
Committed to the County Gaol since our last, Richard MASON, for stealing a quantity of mining equipment from Swang Mine, in Carsington, the property of John Slack; and a purse containing half a crown, and an iron tobacco box, from a coat lying in a coe(?) of a mine in Hopton, the property of Joseph Hall; - and William WOODROOFFE, for stealing and having in his possession a waistcoat and two silk handkerchiefs, the property of Thomas Slater and Edward Ferne, which was stolen about the 19th February ult.
Prunella
Sent by Prunella
Here is an article regarding RICHARD MASON -
Derby Mercury Wednesday March 24 1830
Derbyshire Spring Assizes 1830
RICHARD MASON, aged 22, was charged with stealing a silk handerchief and a waistcoat, the property of Thomas Slater; and WILLIAM WOODROOFE, aged 37, was charged with receiving the same knowing them to be stolen. - MASON pleaded guilty to this as well as to three other indictments found against him, and the other prisoner pleaded not guilty, and put himself upon his trial, but the case was fully made out against him. - His Lordship ordered MASON for the present larceny to be transported for seven years, and WOODROOFE for fourteen years. - MASON on receiving sentence behaved, as he had done in pleading to the several indictments, with a degree of hardened impudence seldom seen in a court of justice, for which he was severely admonished by his Lordship, who ordered him on an indictment preferred against him by a person of the name of Fearn, for stealing a handkerchief, to be transported for a further term of seven years, to commence and be computed from the expiration of his former sentence.
Derby Mercury Wednesday April 14 1830
On the 7th and 9th inst were delivered on board the Retribution Hulk at Sheerness, until their several offences of transportation can be carried into effect, the following Convicts from our County Gaol, viz. Michael Brandreth, James Stone alias Vernon for life;- Thomas Buxton, RICHARD MASON, Henry Knott, WILLIAM WOODROOFE and John Cooper the younger for fourteen years;- and Thomas Baldwin, John Cooper the elder, and Henry Gregg, for seven years.
Prunella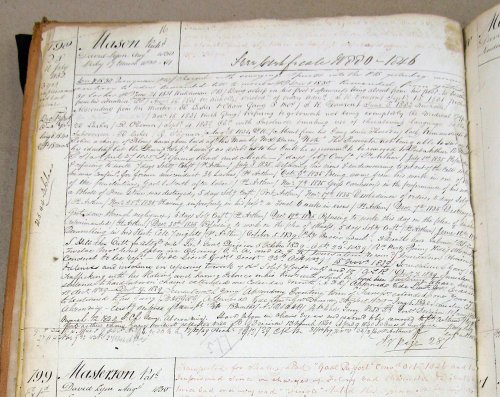 16
MASON Richd |
David Lyon Aug 1830 |
?uby 17 March 1830 | Fare Certificate W880-1846
------------------------------------------------------------------------
Dec 7 1830 Quarryman PW/ charged with conveying spirits into the PB
yesterday morning contrary to orders. Remanded till tomorrow (R)
Dec 8 1830 Remanded from yesterday 50 lashes (R)
June 26 1831 Watchman PB / Being asleep on his post & afterwards being
absent from his post to be remanded from his situation (P.P.?)
Aug 15 1831 W.Nicholls / Disobedience of orders admd /S.R.Dawson/
Sep 18 1831 Nichols? Absconding from his master. 50 lashes & chain gang 6 months /S.R.Dawson/
June 6 1832 Nicholls/ ? ? ? /
Nov 15 1831 Hulk Gang /Refusing to go to work not being exempted by
the Medical Officer 25 Lashes / R.O'Conner/
Sep 4 1832 Charged with Insolence & making use of threatening language
to the Suboverseer. 50 lashes / R.O'Conner/
Aug 25 1834 P.W./ Absent from his Gang since Thursday last,
Remanded Police a charge of Felony having been laid against this man by Mr O'Brien,
Note The Prosecutor not being able to swear his identity but
the Principal Superintendant having no doubt as to his Guilt he is
recommended to be removed to Port Arthur 12 Months /P.S./
April 27 1835 Pilfering bread and Meat - 7 days Solitary Confinement /Pt Arthur/
July 1 1835 Remanded & refusing to work 7 days Solitary Confinement /Pt Arthur/
July 3 1835 Defacing his irons & endeavouring to get out of the cell which
he was confined for former misconduct 36 Lashes /Pt Arthur/
Oct 9 1835 Being away from his work in one of ?
of the penitentiary, Gaol 1 month after labor /Pt Arthur/
Nov 7 1835 Gross carelessness in the performance of his work
a Block of Free stone was destroyed, 5 days Solitary Confinement /Pt Arthur/
Nov 17 1835 Disobedience of orders, 5 days solitary /Pt Arthur/
Nov 28 1835 Having improperly in his possession a Towel 6 weeks in irons/Port Arthur/
Dec 7 1835 Destroying Govt saw through negligence, 5 days Solitary Confinement /Pt Arthur/
Dec 19 1835 Refusing to work this day on the plea of ? reprimanded /Pt Arthur/
Dec 30 1835 Refusing to work on the plea of illness, 5 days
Solitary confinement /Pt Arthur/
Jun 16 1836 Quarrelling in his Hut. Cell 7 nights /Pt Arthur/
Oct 5 1839 P.B./ ? ? ?9 months hard labour / P.Sy? S.Hill then Oath ? ? vide Lieut Govrs Decision Oct 5 1839
Oct 23 1839 /Rd Party Spring Hill/ Absconded. Twelve months hard
labour in chains/O.D.A. and A.F.K./ Jerusalem recom?/ Jerusalem chain gang
Conduct to be ref. vide Lieut Govs decision 25 Oct 1839/
15 Nov 1839 Jerusalem C Gang/ Idleness and insolence in refusing
to work 7 days Solitary Confinement on B and W/A.S.R./
Dec 7 1839 Jerusalem Trafficking with his Rations and having Tobacco
in his Possn with which he had been bartering to have his sentence to hard
labor in chains extended one calendar month/A.F.R./Approved vide Lieut Govrs
Decision 13 Dec 1839
Dec 19 1839 Jerusalem chain gang/Absconding Existing term of
Transportation extended one year to be returned to his Gang / ? ? ?/Approved
vide Lieut Govr Decision, 20 Dec 1839
Jan 6 1840 Jerusalem Ch gang Absconding - Existing sentence of
transportation ext 18 months/??/Returned to his Gang vide Lt Govrs Decision
10 Jan 1840
Mar 12 1840 J. Ch Gang. Absconding. Hard labor in chains 2 years and
recomd to be removed to Pt Arthur/?? Port Arthur chain gang/ conduct
reported vide Lt Govr Decision 13 Mar 1840
Apr 9 1840 Idleness & Insolence 7 days Soly Conf.
S.q.page 287

Family Name: MASON
Given Name(s): Richard
Title 
Rank: Crew
Ship: Gulnare
Date of Departure: 12 Mar 1833
Port of Departure: Hobart
Where Bound:Sydney
Ship to 
Colony Status 
Remarks 
References: CUS33/1/2 p12  

Database Number: 48464
Family Name: MASON
Given Names:  Richard
Date of Arrival: 19 Aug 1830
Ship Name: David Lyon
Date of Departure: 02 May 1830
Port of Departure: London
Remarks 

Compiled, formatted, hyperlinked, encoded, and copyright © 2010, All Rights Reserved.