| | | |
| --- | --- | --- |
| Updated 13 Feb 2011 | WIRKSWORTH Parish Records 1600-1900 | |
<!==================================================>
Samuel Peal, shoemaker from Wirksworth
"Craftsmanship is dying in the Western World... It's the sign of the jet age. All crafts like these take time."
Rodney Peal, 1965, Director & Secretary of Peal & Co 1953-1965

Samuel PEAL, born in 1754, came from a line of shoemakers (who from their account came originally from Cockermouth in Cumberland) and moved to Wirksworth before 1669. In 1791 Samuel patented a way of waterproofing leather with rubber latex in turpentine, but became bankrupt in 1793. His waterproofed and high quality footware became very popular and he moved to London that year. Some say Peal and Company was founded in 1791, others that it dates back to 1565. The company became the oldest-established and most successful shoemakers in the world, moving to more and more exclusive London addresses as business improved. Company salesmen travelled extensively throughout North and South American, Europe, Asia and the Far East. Peal and Co exhibited their footware at the Great Exhibition 1851 and the Festival of Britain 1951. The Company recorded the shape of each customer's foot in "Feet Books", between 1870 and 1965 620 books containing drawings of almost 100,000 feet survive. Customers included Royalty, Aristocrats, Presidents, Politicians, Bankers, Industrialists, Military, Musicians and Film stars. The business ended in 1965, when the family decided that lack of family succession, a declining trade and shortage of skilled staff made closure their best option. The Peal family had been shoemakers for 8 generations, 1700-1965 The trading name was sold to Brooks Brothers of New York, who still produce a range of traditional English-style footwear marketed under the Peal banner. Fosters of Jermyn Street, London acquired the famous boot and fox emblem.
See also:
PEAL pedigree | Other references | Bankruptcy | Wills | Peals in Ince | Pedigree text | History of Peal & Co | Directors | Shops & factories | Other early Peals | Connection between early Peal families | Benefits 1830 | P.R.entries | Premises | Photos | Riding boots | Last chapter | Peal & Co (Janet Peal) | The End 1965 |
Peal and Company Ltd (AIM25 Archives) |
Henry Walter Peal, 1850-1938
Mayor of Ealing, son of Nathaniel,
grandson of Samuel.

Mary PEAL nee CLARK 1840-1909
wife of Charles Nathaniel PEAL 1833-1898

Bernard Edward PEAL 1874-1944
Grace BARROW 1878-1944

Bernard Edward PEAL
1874-1944

Peal's Riding Boots and boot trees 1900-1920
Riding boots with trees

Trees inside boots

Trees made in four pieces from beech wood

Maker's plate on tree

Complete tree

Leather sole with cobbler's nails

Trees hinged & metal pinned

Internal shaping for lightness

Pulling loops & stitching

Shoemakers in 1568.

Boot and fox emblem.

Peal and Co advert for Polo boots, New York 1915.

Baptisms, Marriages and Burials
139 entries for PEAL, PEALE, PEALLE, PEEL, PEELE and PELE
from the Wirksworth and Middleton Parish Registers
covering 1608-1900 can be found here

PEAL family of Wirksworth
Cockermouth? Peter ? PEAL=====v===== ? 1 1669W | | Glusburn 1660 YKS 1656 Charles 1679 Elizabeth 2 PEAL=====v=====BAWDEN | | |--------|------|---|--| | | | | 1681?? 1684W 1687W 1691W Charles Joyce Peter Ann 1698W | | 1691 Peter 1714W Sarah 3 PEAL=====v=====BRANDRICK ** | 1756W | |--------|--|--|-------|------|-------|------| | | | | | | | 1715W 1717W 1720W 1722W 1725W 1728W 1731W Charles Jane Hannah Peter Samuel Sarah Thomas |** 1723W 1723W ** | 1778 Charles 1745W Martha 4 PEAL=====v=====SPENCER 1786W | 1786W | |------|--------|-------|--|--|-------|------|--------| | | | | | | | | 1746W 1747 1749W 1752W 1754W 1757W 1758W 1760W Peter Charles Hannah John Samuel Sarah William Martha ** 1830 1829 1773W ** 1779W ** 1829 1807W | 1832W | 1757W 1754W Elizabeth 1776W Samuel 1790? Ann 5 STUBBS=====v=====PEAL=====v=====LLOYD 1783W | 1818 | | | |-------|-|---| |---|------|----------|-------|--------|--------| | | | | | | | | | 1777W 1778W 1780W 1793 1795? 1797? 1799 1799 1800 Thomas John Sarah Nathaniel Elizabeth Samuel Charles Abraham William 1787 | 1832 | 1802 | 1805 Arabella 1830 Nathaniel 1845 Susan Henrietta 6 GREEN=====v=====PEAL=====v=====ABERCROMBIE 1839 | 1862 | 1897 | | |------------|------|-| |---|---------------------| | | | | | 1833 1835 1837 1850 1853 1855 1852 Charles Annie Susan Henry Emma Emma Frederick 7 Nathaniel Eliza Arabella Walter 1875 Elizabeth Florence Enos 1898 1878 PEAL=====v=====CORBEN PEAL=====v=====FENTON 1938 | 1930 | 1916 | | |---------|--------|-------|--------|--------||--------| |-----|--|--| | | | | | | | | | | 1877 1878 1880 1880 1883 1889 1879?? Florence George Bessie Wilfred Douglas (Living) Maud Mary John Maud 8 Mabel Leonard 1907 Evelyn M 1947 Eva 1936 1965 Notes: W=Event occured at Wirksworth. **Shoemaker, according to Ince 048d
Partners and Directors of Peal and Co.
1793 ===v===Nathaniel====v=== 6 | 1862 | | | 1833 1850 1872 Charles Henry 1875 7 ===v===Nathaniel Walter===v=== | 1898 1935 | | | |----|----| |--------|--------| 1873 1874 1878 1880 1900 Frederic Bernard 1899 George Wilfred 8 ===v===C Edward===v=== Leonard===v=== Evelyn | 1957 1944 1965 | | | |-------|---------| | 1902 1915 | Cecil John Robert 9 Frederic===v=== Rodney===v=== G 1976 | 1993 | 1932 | Rodney Bernard 10 2004 1896 Partners: CN, HW, FC, BE 1932 Partners: HW, FC, BE, GL, WE, CF 1955 Directors: CF, RG, JR, R 1965 At closure: CF, RG, JR, R Shops & Factories: Samuel Peal 1794 Stepney Green 1802 7 Frederick Place, Tottenham Court Rd 1830 Peal Bros. 11 Duke St, Grosvenor Squ. 1844 Nathaniel Peal 1886-1958 487 Oxford St W1 1886 Northfield Works, Ealing 1885-1965 Jeddo Works Boot Factory Jeddo Road, Acton Vale W12 1958-1965 48 Wigmore St, W1
History of Peal & Co. 1791-1965
Military, Sporting & General Bootmakers,
Boot tree, Spur & case Makers.
by Rodney Peal Sep 2002
Director & Secretary of Peal & Co 1953-1965

It was Samuel Peal who in 1791 took out a Patent for rendering clothing materials waterproof by brushing on them a solution of Caoutchouc (India rubber). A shoemaker from Wirksworth, he came to London and made boots using his own waterproof Leather.

Samuel Peal became a freeman of Cordwainers Company April 1802 by order of the Lord Mayor. His son Nathaniel was apprenticed April 1808. Charles N Peal was apprenticed to Nathaniel Peal March 1847 at Cordwainers Hall.

Nathaniel Peal exhibited his Half-Leg Hunting Boots and Whole-Leg Hunting & Fishing Boots of Waterproof Leather at the Great Exhibition of 1851 in Hyde Park.

Peal & Co exhibited Hunting Boots with trees at the Festival of Britain in 1951. About 1889 Peal & Co sent representatives to the principal cities of Europe & also to the USA taking orders for bespoke footware. Mr W L Peal visited the USA in Spring & Fall from 1922-1966 A trip to the USA in the 1960s included NYC, Philadelphia, Baltimore, Washington DC, Pittsburg, Chicago, Detroit, & Boston with Los Angeles, Beverley Hills, Santa Barbara. Between the wars Peal reps went to West Point & other camps for Boot & Sam Brown belt orders.

Peal & Co had a Trade Tent at Badminton Horse Trials after WW11, and gave a prize for show jumping. Peals went to Royal International Horse & Horse of the Year show, Bughley Horse Trials, & Hickstone. Peal & Co Ltd closed shop Sat 27 Feb 1965 due to manufacturing problems. The Peal name was sold to Brooks Bros, NYC.

Wills
Will of Abraham Samuel Peal, Bootmaker of Marylebone , Middlesex 30 
January 1838 PROB 11/1889
Will of Samuel Peal, Cordwainer of Saint Pancras , Middlesex 14 August 
1818 PROB 11/1607


from Historical Directories for London
-----
1832, London Directory 1832
S. Peal Water-proof -leather-manuf, 7 Frederick Place , Tottenham court Rd.
Peal's Waterproof shoe maker, 11 Duke St, Grosvenor Sq.
-----
1841, Post Office London Directory, 1841
11 Duke Street, Grosvenor Sq, near Robert St
Peal & Brothers, boot & Shoe makers
also
Peal & Brothers, patent boot & shoe makers
11 Duke St, Grosvenor Sq
-----
1846, Post Office Directory 1846
Nathaniel Peal , Water proof Boot and Shoe maker, 11 Duke St Grosvenor Sq.
-----
1852 Post Office London Directory (Small Edition), 1852 
Peal Nathaniel, waterproof boot & shoe maker,
11 Duke St, Grosvenor Square
-----
1882 Post Office London Directory, 1882. 
Peal & Co waterproof leather manufacturers & boot & shoe makers,
11 Duke St, Grosvenor Sq W; & workshops 31 Thomas St,
Grosvenor Sq W; 15 Queen St, Grosvenor Sq W; Northfield works,
Ealing Dean & Cathnor Road, Shepherd's Bush
-----
1884, Business Directory of London, 1884
Peal Charles & Co waterproof boot makers 11 Duke St,
31 Thomas St Grosvenor Sq & 15 Queen Sq Grosvenor Sq W.
Removing in spring 1884 to 485 Oxford St
-------
1891, Post Office London Trades Directory 1891
Peal & Co, 487 Oxford St W & workshops North Row W
-------
1895, Post Office London Directory, 1895
Peal & Co, 487 Oxford St W & North Row W
-----
1899, Post Office London Directory 1899
Peal & Co, boot & shoe makers, 487 Oxford St W & 48 North Row W
-T A "Peal Boots"; T N 3549 Gerrard
-----
1904 Post Office London County Suburbs Directory, 1904
Peal & Co boot manufacturers, Jeddo Road, Shepherd's Bush W
-----
1910, Post Office London Directory 1910
Peal & Co, 487 Oxford St W & 48 North Row, Grosvenor Sq W
-----
1915, Post Office London Directory, 1915
Peal & C0, boot & shoe Makers, 487 Oxford St W & 48 North Row,
Grosvenor Sq W-T A "Peal Boot", "Wesdo", T N 825 Mayfair
-------
Sun Life Guildhall Library 1819
MS 11936/477/948802  20 January 1819
Insured: Ann Peal, Nathaniel Peal and Thomas Lloyd 7 Frederick Place 
Hampstead Road Middlesex shoemakers

MS 11936/482/953810  21 April 1819
Insured: Charles Thompson and Nathaniel Peal of 33 on east side of 
Rupert Street leather sellers

MS 11936/482/954440  25 May 1819
Insured: Thomas and John Peal 103 Great Portland Street shoemakers

MS 11936/521/1088852  2 April 1829
Insured: Edward Abbott St Martin's Lane oilman and Frederick Lomax 
13 Old Quebec Street upholder in trust for Mary Ann the wife of 
William Edward Peal
Other property or occupiers: 4 Bryanstone Street Portman Square

MS 11936/514/1069866  16 January 1828
Insured: Nathaniel Peal, Abraham Peal, William Edward Peal and 
Charles Peal, 17 Frederick Place Hampstead Road, boot and shoe makers

London Gazette, 1793, Page 681
The Creditors who have proved their Debts under a Commission of Bankrupt awarded and issued forth against Samuel Hands and Samuel Peal, of Birmingham in the County of Warwick, and Anthony Hunt, of the city of Bristol, Curriers, Dealers, Chapmen and Copartners, are desired to meet the Assignees of the said Bankrupts Estate and Effects on the 30th day of August instant, at Ten o'clock in the Forenoon, at the Union Tavern, Cherry Street, Birmingham, in order to assent to or dissent from the said Asignees borrowing, on the Credit of the Patents for making and vending the water Proof Leather and other joint Property of the said Bankrupts, a sufficient Sum for enabling them to continue on the Working of the said Patents; or whether the said Assignees shall sell one or more of such Patents, and continue to work the Remainder of them with the Money to arise therefrom; or whether all the said Patents shall be sold; and lastly, if it should be thought adviseable to work all or any of the Patents, whether any and.....
London Gazette, 1793, Page 1046
The Creditors who have proved their Debts under a Commission of Bankrupt awarded and issued forth against Samuel Hands and Samuel Peal, of Birmingham, and Anthony Hunt, of Bristol, Curriers and Copartners, are desired to meet the Assignees of said Bankrupts Estate and Effects on the 27th Day of November instant, at Five in the afternoon, at the Union Tavern in Cherry-Street, Birmingham, in order to take into Consideration sundry Matters relative to the intended Sale of the Patents for making and vending Water-Proof Leather; and particularly how far any Attempt to invade the Right of such Patents shall be Prosecuted at Law; and also upon several other special Affairs.
Will proved 11 Aug 1818
Mentioned in will:
Samuel Peal of Frederick Place, Saint Pancras, Middlesex, cordwainer. wife Ann, son Nathaniel Peal, Thomas Lloyd of east Sain? Bermondsey, Surrey; freehold and leasehold property at Wirksworth; Frederick Place, Saint Pancras, Middlesex; Ann Peal; Nathaniel Peal; Thomas Lloyd; Children: Thomas Peal, John Peal, Nathaniel Peal, Elizabeth Peal, Charles Peal, Abraham Samuel Peal, William Edward Peal. Daughters: Sarah Peal, Joan? Peal. Sampson Rains
Will of Abraham Samuel PEAL of Paddington, bootmaker Will proved 30 Jan 1838 mentioned in will: wife Sarah Eliza Peal brother Nathaniel Peal, Duke St, bootmaker brother William Edward Peal, Bryanstone St, Portman Sq, bootmaker Thomas Peal Francis Cranmer Penson
Custom Bootmaker in London Calls it Quits
[from over the AP wire, Jan 3, 1965]
London's most famous bootmakers are closing down because of trouble getting craftsmen to make their custom-made shoes. Rodney Peal, director and secretary of the 173-year-old Peal & Co., said Thursday the firm would close its custom operation Feb. 27. "The new workmen haven't got the skill of the old craftsmen and work recently has not been up to standard", said Peal, a member of the sixth generation to operate the firm. Ten years ago, he said, the firm had 25 craftsmen with more than 50 years of service. Now there are about 10. "Craftsmanship is dying in the Western World," said Peal. "In the coming years I foresee the death of bespoke (made-to-order) tailoring also. It's the sign of the jet age. All crafts like these take time." Peal said most of his 82 employees had already found work in the 10 or so custom bootmakers left in London. Peal's custom-made shoes sell for $70 a pair, and "we have more orders than we can make," the director said. The firm stopped taking orders three weeks ago. In the early years Peal was famed for hunting and military boots, then turned to men's shoes. In the Great London Exposition of 1851 it won awards for fishing boots, both high and low. The members of the firm today are Cecil Peal, managing director and father of Rodney; Cecil's brother, John Peal, and Cecil's cousin, Robert Peal. "I'm very disappointed at the closing," said Rodney. "I thought I was in this field for life." He said he hadn't decided what he would do now. Peal's readymade shoes, produced from the firm's lasts and special leather at factory in Northampton, will still be sold in the United States by Brooks Brothers of New York. But the custom-made shoes will be no more, and all the British sales will end.
Early Peals from Ince 048d (written c1830, transcribed by 2001)
A clear full-size scan (1902x1182 px) is available free, for private research only, by email attachment (474 kb), contact John Palmer, ask for "IncePeal.jpg".


Pedigree of the family of PEAL of Wirksworth Co Derby shoemakers.
Who from their account came originally from Cockermouth in Cumberland
Drawn by T N Ince from the relation of Mr Marcellus & William PEAL

                           ob 2 Nov 1857 aet 56 Isaac FRICKLEY of Wirksworth


                                                       01==v==
                                                           |
                                                      .....| . . . .
                                                      |            |
                                                      02==v==      03==v==
                                                          |          ..|..
                                                          |          |   |
                                                          04==v==05  06  07
                                                              |
                                                          ....|...........................................................................
                                                          |          |                                                    |          |   |
                                                          08==v==09  10==11                                               12==v==13  14  15
                                                              |                                                               |
                                                           ...|..........................................................   ..|..........
                                                           |                     |           |   |   |   |   |          |   |   |   |   |
                                                           16==v==17      18==v==19==v==20   21  22  23  24  25==v==26  27  28  29  30  31
                                                               |              |      |                           |
              .................................................|.....   ......|..   .|...................        |
              |          |          |   |   |   |   |   |   |   |   |   |   |   |   |   |   |   |   |   |        |
              32==v==33  34==v==35  36  37  38  39  40  41  42  43  44  45  46  47  48  49  50  51  52  53       54==v==55
                  |          |                                                                                       |
..................|.....   ..|..........                                          ...................................|.
|   |          |   |   |   |   |   |   |                                          |   |   |   |   |   |   |   |   |   |
56  57==v==58  59  60  61  62  63  64  65                                         66  67  68  69  70  71  72  73  74  75
        |
  ......|......
  |   |   |   |
  76  77  78  79



01  Peter PEAL of Wirksworth Co Derby bur there 4 Mar 1669
02  Charles PEAL of Wirksworth
03  William PEAL of Wirksworth
    [note: connection with #02 is dashed, showing uncertainty]
04  Peter PEAL of Wirksworth shoemaker bap at Wirksworth 6 Apr 1687
    bur ........[words crossed out]
05  Sarah dau ... BRANDRITH of Wirksworth
    (Richard BRANDRITH 1620 paid 11/2 copyhold rent in Wirksworth
    to the Kings copyhold Decree)
06  Mary bap 15 Apr 1685
07  Jane bap

[children of Peter & Sarah]
08  Charles PEAL of Wirksworth ap[prentice] shoemaker bap at Wirksworth.....
    bur there 12 Jul 1786
09  Martha da of SPENCER of Ible Derb farmer bur there 2 Aug 1786
10  Samuel PEAL of Wirksworth shoemaker ob s.p. [died without issue] seized
    of 2 houses & gardens on Causeway Wirksworth. Bur Jun 4 1778
11  Jane TOMLINSON of Higham afterwards Wirksworth mard Richard OXLEY
    of Wirksworth shoemaker she died ... Feb 1789
12  Sarah mard Mark STONE of Wirksworth shoemaker
13  Mark STONE
14  Jane PEAL ob in London unmarried
15  Thomas ob bachelor

[children of Charles & Martha]
16  1 Peter PEAL of Wirksworth aforesaid shoemaker died 5 Sep 1807 aged 61
    Bn Jul 6 1746
17  (*) Mary YATES da of John YATES of Middleton by Wirksworth miner
    she died 23 Jan 1817 aged 72
18  Elizabeth [Sarah crossed out] STUBBS of Wirksworth da of Thomas STUBBS
    by Lydia STREET of Bolehill ob 22 Sep 1783 aet 26
19  5 Samuel PEAL of Frederick Place St Pancras London shoemaker
    Testator 10 Nov 1817 bn March ... 1754?
20  Ann LLOYD
21  4 John ob unmarried Bn Mar 12 1754
22  2 Charles PEAL of Wirksworth shoemaker Bn Mar 16 1747 died 16 Oct 1830
    bur 20th Wirksworth
23  3 Hannah wife of Isaac DOXEY of Wirksworth died Jan 1829 bur 10th
24  8 Martha wife of Joseph FRICKLEY Bn Sep 2 1760
25  7 William PEAL of Wirksworth shoemaker Bn Dec 9 1758 died 28 Oct 1832
    aged 73 years
26  Ellen TATUM da of ... TATUM of ....
27  6 Sarah bn 15 Apr 1757 bur 24 Mar 1779

[children of Mark & Sarah]
28  Samuel STONE brother & heir of Robert? STONE 1790
29  Mark STONE of Wirksworth
30  Jane
31  Charles devisee of his Uncle S PEAL ob s.p.[died without issue]

[children of Peter & Mary]
32  Peter PEAL of Wirksworth shoemaker bn 2 Mar died ... 1812 aet 41
33  Alice BAMFORD da of Marcellus of Wirksworth shoemaker
    Bn.... Mard....died....
34  Samuel PEAL of London shoemaker died
35  Hannah GUNN? Birmingham
36  John bur 5 Mar 1776
37  Thomas
38  Hannah blind ob 23 Feb 1831 aet 57
39  Phoebe
40  Sarah
41  Mary
42  Jane d Peter PEAL bur 9 Mar 1780
43  Elizabeth bn .... mard Edward JACKSON junr
44  Anne bn .... Mard John DAY of London

[children of Samuel & Elizabeth]
45  Thomas PEAL of Wirksworth shoemaker 1830
46  John PEAL  died s.p.
47  Sarah PEAL died s.p.

[children of Samuel & Ann]
48  Nathan PEAL Oxford St London
49  Elizabeth mard ... THOMPSON
50  Samuel
51  Charles PEAL
52  Abraham PEAL
53  Will Edward PEAL

[children of William & Ellen]
54  William PEAL of Wirksworth shoemaker born .... 
    died at Belper 5 Sep 1836 aet 41
55  Rhoda COLLEY d of William COLLEY of Cromford Co Derby & formerly of
    Ecclesfield Co York paper manufacturer mard at Wirksworth....181 [sic]

[children of Peter & Alice]
56  Joseph PEAL of Wirksworth shoemaker born 23 Jan 1801 died Jul 1821 unmarried
57  Marcellus PEAL of Wirksworth schoolmaster 2nd son heir of his brother
    Bn 18 Mar 1802
58  Betty d HARRISON of Edale ob 28 Apr 1862 aet 62
59  Sarah died s.p. 21 Mar 1817 Bn 18 Oct 1804
60  James died 2 May 1826 aged 19 years bur at Wirksworth St James?
    Bn 26 May 1807
61  Peter PEAL of ? book binder bn 10 Mar 1810 of Derby

[children of Samuel & Hannah]
62  George
63  Charles
64  William
65  Anne

[children of William & Rhoda]
66  William PEAL
67  Nat[han?] PEAL
68  Ellen
69  Charles
70  Samuel
71  Robert
72  Edward
73  Thomas  (Note: 10 children)
74  [no details]
75  [no details]

[children of Marcellus & Betty]
76  (*) George
77  Sarah Ann m at Wirksworth 17 May 1866 to William SPERRY
    of the Via Gellia Lead Works Bonsall
78  Charles
79  James

Her 3 sisters viz:
Sarah ux Thomas STEAR of Wirksworth cordwainer
Ann wife of Job WILD of same place miner &
Phoebe wife of John BONNINGTON of [Red Lion St?] London cabinet maker
with Peter PEAL & Mary his wife sell premises which [...?] devised to them
by his Will dated ....

[footnote below may be on another page:]
At Mildchen? Middlesex Co Feb 7 1863 George M PEAL of England? 
to Julia d of C V MUNDAY Esquire of     see MUNDAY 
At Natchez Mississippi on 14 Nov 1865 Mr George M PEAL a son born 
22 Jun 1866 at Jersey Charles James youngest son of M PEAL [married] 
Laura Marie Josephine d of James WHEELER No 2 Charing Cross Jersey 


Other early Peals from Parish Registers
It is not known if the Peter Peal shown at the top of this tree
is the father of Charles Peal shown at the top of the pedigree above.
Peter Peal's baptism may have been just before 1608,
when the Registers begin.


                                1622
Dorothy  1633    Peter  1641    Jane
ASBERY=====v=====PEAL=====v=====WIGLY
1640       |     1669     |
           |              |
           |        |-----|-----|--------|------|
           |        |     |     |        |      |
           |       1638  1641  1643     1645   1647
          Infant   Alce  John  William  Peter  William
          1634     1641        1645             |
                                                |
                                                |
                            Elizabeth  1672    William
                            THOMPSON=====v=====PEAL
                            1703         |     1715
                                         |
                    |----------|----|----|-----|
                    |          |    |          |
                              1674 1677
                   Elizabeth  Ann  Elizabeth  Mary
                   1673                       1699

The only known connection between Peter PEAL buried 1669 and Charles PEAL father of Peter Peal baptised 1687. It is shown in Ince's "Pedigrees" page 048d, related to Ince about 1830 by Marcellus and William Peal, alive at the time. Such a connection would unite the main two Peal families living in Wirksworth in the 17th Century.

Problems with Benefits in 1830
Hannah Peal was Samuel Peal's niece.
T.N.Ince compiled the Peal pedigree.
The Gentleman's Magazine
[Published April 1, 1833]
Page 194, Minor Correspondence.
Mr T.N.INCE, of Wirksworth, enquires
at what period the Governors of
Etherington's Charity for the Blind, altered
the age of admission from 50 to 60 years;
their reasons, and their authority fo so
doing? He states that a respectable female,
blind from childhood, named Hannah
Peal, of Wirksworth, failed in obtaining
the charity, although she had been a regular
applicant for it, from the age of 42
to 57 years! namely, from 1816 to 1830.
On her first application it was admitted
that she possessed every requisite but age,
and that at 50 years of age she would become
eligible. In 1824, having attained
the age of 50, she renewed her application,
but in reply was informed, that in consequence
of a new regulation, she could not
receive the charity till she attained the
age of 60. She died in February 1831,
aged 57, and therefore never received the
benefit of the institution.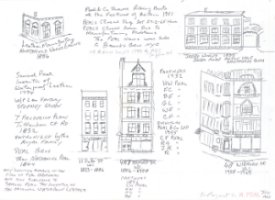 Peal Premises, drawn for Margaret Wells by Rodney Peal July 1998 only surviving member of the firm
of Peal Brothers and sole successor to Samuel Peal the inventor of the Original Waterproof Leather.
11 Duke St W1 1853-86              487 Oxford St W1 1886-1958              48 Wigmore St W1 1958-65
Jeddo Works, Jeddo Rd, Acton Vale, Shepherds Bush 1885         Leather manufactory, Northfield Works, Ealing 1886
Notes between drawings:
Peal & Co showed Riding Boots at the Festival of Britain 1951.
Peals closed shop Sat 27-2-1965 noon.
Peals closed down due to manufacturing problems.
The Peal name was sold to Brooks Bros NYC.
NB. Brooks Bros bought 1988 by M & S for £500 Million.

Samuel Peal inventor of Waterproof leather.
Waterproof leather factory: Stepney Green 1794.
7 Frederick Place, Tottenham Ct Rd 1832.
Patronized by the Royal Family.
Peal Bros. Then Nathaniel Peal 1844.
Partners 1896: Peal CN, HW, FC, BE
Partners 1932: Peal HW, FC, BE, GL, WE, CF
Directors 1955: Peal CF, RG, JR, R

Horse and Hound, January 23, 1965
Peal & Co. (bootmakers) call it a day after 174 years of business.
On Saturday, February 27, the last entry will be written into the vast volume which makes up the 174 years' history of Peal and Co, Ltd, the Wigmore Street bootmakers, for on that day the 18th-century established firm which has supplied hunting boots and other forms of footware to generations of hunting and sporting folk throughout the world - and, not least, to countless readers of Horse and Hound- will be closing its London, W1, premises for the last time.
The cause of this rather sad departure of a firm which was born in and grew in an age of charm and elegance, is not lack of trade, for the demand for its products is still great - particularly in overseas countries where 65 per cent of these expertly made goods are exported-but shortage of skilled labour: no one, it seems, is sufficiently interested in this modern age of fast-moving cars and supersonic jets to devote himself to the art of turning out a piece of footwear which, though costly in purchase, can. and frequently does, see service for 40 years and more.
Cecil Peal and his leather buyer, Herbert Winstone,
inspect some of the skins during the last war period.


Veteran shoemaker sewing a welt in the early parts of this century.

Original premises
The firm of Peal and Co. first entered the world of commerce from an old farmhouse in Hampstead in 1791. With their reputation growing and the demand for their products increasing, they moved into more elite premises in Duke Street, off Grosvenor Square, where they took root for more than 100 years.
Later they transferred the business to Oxford Street and, in 1958, to the present shop in Wigmore Street, where Mr Cecil Peal (a member of the fifth generation of the family) heads the small board of directors.
Throughout the three centuries during which their craftsmen have been making boots and shoes, Peals have numbered among their clientele some of the most famous people in sport, and other celebrities. A glance through any one of the old order books is, in fact, like turning over the pages of Debrett or Who's Who.
One or two books chosen at random contained the names (and footprints) of King George V and his son the Duke of Windsor, the Duke of Santona, Prince Christian of Schleswig-Holstein, Lord Digby, Lord Ludlow, the earl of Shaftesbury, the Duke of Beaufort- and, from Hollywood, such stars as Humphrey Bogart, Douglas Fairbanks and Cary Grant. The show-jumping world is also represented in these books, Pat Koechlin-Smythe having an entry, as do several other members of the British, German and American International teams, and, on behalf of polo, there are Lord Cowdray, Hanut Singh and the Maharajah of Jaipur. The late Lord Mildmay and the Ducque d'Albuquerque are representative of those who made their names among amateur riders.
Peals are, rightly, very proud of their records and these, on many occasions during the first world war, helped the War Office to identify soldiers whose sole remains after shell explosions have been a few fragments of clothing-and an all-important reference number in a boot.
In triplicate
Stories of the whims and fancies of clients of the firm throughout the ages are, naturally enough, profuse and Piggott (still an employee after 56 years) and other veteran members of the staff all have their tales to tell- of, for example, the Indian prince who always had everything made in triplicate, because he hated travelling with luggage, and of the society lady who had made for her a pair of suede thigh- length boots for riding elephants on safari -and the rivalry which took place among the staff to get the job of taking the esteemed lady's measurements!...
PEAL & Company
by Janet Peal
(Great-great-granddaughter to Samuel Peal)
Samuel PEAL born (and baptised) 1754 in Wirksworth near Derby, he died in 1818, patented his method of waterproofing leather in 1791. This was achieved by dissolving rubber in turpentine, and repeatedly brushing this mixture on the skins, partially drying them between coats in an oven or warm room. His previous interests had been in quarrying in the Wirksworth area of Derbyshire where he lived. He was twice married, and by his second marriage Nathaniel was born 1793, who later entered the business (probably at the age of 17 or so).

Samuel first tried to start a business of waterproofing leather in the Birmingham area, but this proved unsuccessful. He then came to London and with a Mr. THOMPSON started a leather merchant's business in Rupert Street, St James. By 1794 he had his own business in Stepney Street, as a waterproof leather manufacturing and leather merchant in general for the boot and shoe trade.

Nathaniel finding that the boot and shoe makers, his customers, were enjoying profitable business using his leather, decided to enter the trade. Accordingly, he set up as a boot and shoe maker at No 7 Frederick Place, Tottenham Court Road, where he was still trading in 1831.

Nathaniel was also twice married, his first wife had Charles Nathaniel, born 1833 and by his second wife Henry Walter, 1860. Before the birth of Charles, the business had moved to No 11 Dukes Street, Grosvenor Square, and continued there until 1886. In that year newly built premises were taken at No 487 Oxford Street, under the partnership of Charles Nathaniel and Henry Walter. Also at this time a workshop was built at Jeddo Works, Starch Green, Shepherds' Bush, and the leather waterproofing had been moved to the family laundry at Northfields, South Ealing. The leather processing had to be out in the country owing to the smell.

On January 1st 1895 Frederick Charles, son of Charles Nathaniel, was made a full partner at the age of 21. In March of that year the works were enlarged. That year also was Henry Walter being allowed by the other partners to take up a Directorship in the newly formed tobacconist firm of Benson & Hedges.

January 1st 1896 Bernard Edward, brother of Frederick was admitted as a full partner at the usual age of 21. It is recorded that in February of that year there was a bad crash of the horse drawn delivery van, but unfortunately no details are given.

By the year 1898 the partners had revolutionised the manufacturing side of the business by introducing lock-stitching welters, rapidly stitching machines, an edge trimmer and a heel paring machine. The firm was the first customer in the Country of the United Shoe Machinery Co of America, later to be known as the British United Shoe Machinery Co, with the use of the lock-stitch welters. The idea behind the new methods was to assist and standardise the hand operations by machines for the more laborious tasks. Perhaps here it should be noted also that the firm used the Cutland lasting machine, a device by which the upper and last were held in position and the first pull taken by the machine. It should be pointed out that the machine was humanely powered; the remainder of the lasting in was accomplished with hand pincers, with the exception of course of the primary strains at the toe cap and joints which were taken by other pincers on the machine.

During 1917 the horses and van were replaced by a motor van, nick-named Maxwell, at the cost of £195. In the latter part of 1919 extensions to the wood factory were started, namely two large wood drying kilns and a bay especially for the four last and tree lathes.

1923: Cecil Frederick was made a partner and from the records it appears that a Pediscope has been in use for the shoe fitting for some time. At this time the Business was making not only boots, riding boots, shoes and trees of all varieties, but military belts and a full range of suitcases and leather goods.

May 1930: due to shortage of business the staff had to be pruned and had to take an extra half day off each week with a subsequent reduction of pay.

Henry Walter died in 1938. During the 1939 War the Works suffered bomb damage. The mess room at Oxford Street being the H.Q. of the local Fire-Watchers. During September 1941 Peal & Co undertook to run the Business of Flock & Smith. In 1942 there were discussions with Maxwell & Yapp over amalgamations with them, but these did not come to fruition. Both B.E. and W.E. Peal retired due to ill health in 1944. The lease of 487 Oxford Street was renewed for a further 69 years.

1946: Saw discussions win the reduction of the working week from 48 hours 5 1/2 day to 45 hour 5 days, and the Oxford Street Staff and Jeddo foreman and deputies to have one Saturday morning off each month. This was adopted in January 1947 for Oxford Street and March for Jeddo.

Robin George, and John Rodney were both admitted as Cadet partners from January 1947. The former being the son of George Leonard and latter of Frederick Charles.

The freehold of Jeddo works was obtained in 1948. FCP retired in March 1949. Messrs Bartley, also of Oxford Street, was absorbed in October 1952.

Rodney, son of C.F. was made a partner in Jan 1953.

In 1954 the closing factory was sold, the closers being moved to a disused part of the maker's building and the office to part of the old stables.

In January 1955 the partnership was dissolved and the Firm made into a Limited Company. This year also saw the sad demise of the old original lock-stitch welters, installed in 1898. These were replaced by a model "K" welter from the same stable. The sold machine had to be re-placed as it was impossible to find anyone capable of operating it and also lack of space.

1958: The Firm inherited some trade customers from Messrs SLOAN for lasts and trees.

At this time it was at least a 50 hour week. 5 1/2 day week, finishing Saturday afternoon in Oxford Street around 15.30 hrs and at the Works about 16.30 hrs.

The basis for holidays being:
3 year Service and under - 1 week.
3 years but less than 7 -10 days
7 years, and over 14 days.

In the year 1900 George Leonard (my father) son of Henry, was admitted as a partner, and in 1901 this younger brother Wilfred Evelyn was similarly admitted. It was during this year that the first Royal Warrant was granted.

In February 1902 there were in excess of 111 employees, and this number was then recorded of having availed themselves of free vaccination by the firm. The records state that there were many more who were vaccinated privately or by the "public vaccinator". The entry exhorts the employees to be vaccinated with the following "Many of our customers are loath to return to London at this time and the firm would like to be able to assure them that all our employees have been vaccinated. In this year it was decided to build a factory next to the machine factory, specially for "closing". This cost £5,296.

During 1905 the partners decided to patent another of their innovations. This was the expanding long boot tree key. By means of this key, ie. the centre portion of the tree leg, expanding and contracting automatically as it was pushed in and pulled out, stretching of the top edge was avoided. Also during this year electricity was first used both to drive machinery and for lighting. Prior to this the shafting had been operated by a gas-oil engine.

Many of the employees joined the Services during the First World War. Several were wounded and killed. Two of the partners were commissioned - GLP and WEP. The latter attained the rank of Lt Colonel and was severely wounded. The Business was hard put to it during the war with manpower shortage and many orders for field boots, marching boots and Sam Browne Belts. The Firm had a patent shape for the shoulder straps of the latter, which made it lie flatter on the officer's back. The Works also did its share war- work by the Wood Factory turning rifle butts on the last machines, and loaning the mechanic's lathe for shell turning.

On 25 March 1959 the Firm moved to 48 Wigmore Street, W.1. There were two reasons for this.
a) The lowering of the prestige of Oxford Street and
b) a reasonable offer from developers.
It was felt that Wigmore was more in keeping with our type of trade.

1950 a cup was presented to the British Show Jumping Association for competition at Badminton Horse Trials.

1961 a prize of a pair of riding boots and trees was given for the Peal Championship at Ascot Jumping Show. A similar prize was given to the Hickstead Horse Show.

December 1964 at a Board Meeting of the Directors, it was decide that in view of the impossibility of getting skilled shoe makers, last and tree makers at Jeddo Works and being unwilling to lower the standard so long maintained, the Firm should close. This took effect from 1 January 1965 (the day G.L.P. died)

Between the wars representatives of the Firm travelled among other places to Canada, USA, South America, Hawaii, Sweden, France, Germany, Spain and Belgium to attend customers. The American traveler completed 100 crossings of the Atlantic in 1953 and continued his itinerary yearly up to 1964.

The Firm exhibited at the 1851 Exhibition at the Crystal Palace and in 1951 at the South Bank Exhibition. During the life of Peal & Co the Firm served many of the crowned heads, aristocracy and famous people of Europe and USA. Royal Warrants were held for King George V, The Prince of Wales and The King of Greece. The bespoke lasts held in the Last Room in Oxford Street exceeded 50,000

(Great-Great-Granddaughter of Samuel Peal)

Some typical prices were:
                              1900     1945 
Calf blacking boots           £5. 5.   £44. 
Walking shoes                 £2. 2.   £24.10 
Ladies Oxford Shoes           £1.15    £25.10.6. 
Long hollow riding boot trees £2.18.6. £12.12.0. 

Compiled, formatted, hyperlinked, encoded, and copyright © 2009, All Rights Reserved.