| | | |
| --- | --- | --- |
| Updated 23 Mar 2011 | WIRKSWORTH Parish Records 1600-1900 | |
<!==================================================>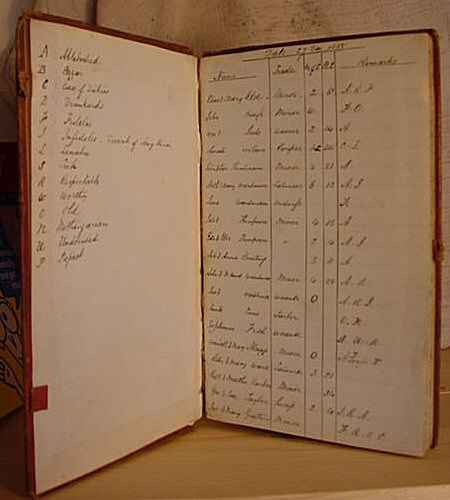 The purpose of this book is a mystery at the moment, though there may be clues. Leather covered with 70 pages, only 16 are used. Dated 1855, the book has no title. Probably written by the same hand, it contains about 200 names of families in Wirksworth, Derbyshire. About 160 have been traced in the Census for 1851 and 1861, and most come from two streets close together near the town centre (Dale and Greenhill). Names of man and wife, occupation, number of children and age of eldest child are given. Remarks about the character of the person are also given, using 14 codes. Five of these codes seem to be religious in nature, another 4 would be considered slanderous today. Half the trades mentioned are miners, labourers, weavers, shoemakers and hucksters, in fact the working class of the town. It seems too early for the Salvation Army, other suggested purposes have been Magistrates Book, Rate Book and Poor Law Book. Anyone with any ideas please contact: See emails received

The book was for sale on Ebay, the winner kindly sent scans of the used pages to the author, whose transcription and analysis is set out below. The 5 photos were taken by the seller.

See Interactive street map of central Wirksworth which shows streets, numbers and has links to drawings of buildings.
AN ORIGINAL MANUSCRIPT NOTEBOOK, DATED 1855, CONTAINING SEVERAL PAGES OF SOCIAL 'OBSERVATIONS' ON PERSONS IN THE DALE AND GREENHILL AREA OF DERBYSHIRE, WALNBROOK, AND 'ST JOHNS STREET AND COURTS'
A fascinating commentary made (possibly as a Rate Book or Poor Law Union book) which lists various families, their trades, number of children, and 'remarks'. These remarks are in code, which is supplied on the front endpaper, 'A' for ablebodied, 'B' for beggar, 'C' for case of distress, 'D' for drunkard, 'F' for fidelis, 'I' for infidels, dissent of any kind, 'L' for lunatic, 'S' for sick, 'R' for respectable, 'W' for worthy, 'O' for old, 'N' for nothingarian, 'U' for undecided, and 'P' for papist. Family names mentioned include Else, Bough, Wilson, Thompson, Bunting, Sims, Frith, Alsopp, Barker, Taylor, Gratton, Blackham, Bamford, Godbeare, Ludlam, Macdonald, Woodhouse, Steer, Allen, Houghton, Pearson, Marsh, Turner, Rose, Balens, Wigley, Holmes, Winson, Gaffany, Gibbons, Mather, Poyser, and Clough, to name a few. Trades include labourers, miners, butchers, weavers, midwifes, chimneysweeps, paupers, butter dealers, masons, bakers, hucksters, postmen, shoemakers, lodging house owners (who is A and P, making her an ablebodied Papist), tapeweavers, etc. Typical entries include "Wm.Winson, Blacksmith Adulterer, 4 children, a nothingarian drunkard", although comments improve when the author moves to 'Walnbrook St John Street and Courts'. The only Dale and Greenhill area I could locate is in the Wirksworth parish of Derbyshire, which also has a St Johns Street. A fascinating piece of English social history. Original leather covered notebook, spine chipped, otherwise in good condition, with strong hinges. Measures 7 1/2" x 5", contents approx 70 pages, but mostly blank with 16 pages of handwritten text.
D09 Victorian Manuscript book 1853

D09d Names, occupations, children, and coded personal remarks

D09b 19 entries per page, 16 pages used, 202 entries total

D09a Families from Dale & Greenhill area, Wirksworth

D09c Coded remarks on front endpaper

Transcription of Book
by John Palmer
Coded remarks (listed on front endpaper)



A: Ablebodied
B: Beggar
C: Case of Distress
D: Drunkard
F: Fidelis [Faithful (to the Church of England)]
I: Infidelis, dissent of any kind
L: Lunatic
S: Sick
R: Respectable
W: Worthy [Of high social position]
O: Old
N: Nothingarian [One who has no particular belief]
U: Undecided [Possibly religious]
P: Papist [Roman Catholic]


Page 1, Dale, 27 Dec 1855

House

Name

Trade

No of C

El C

Remarks

302

Miner

2

6

A R F

207

Miner

W

-

F O

207

weaver

2

14

A

208

Pauper

1.L

30

O I

209

Miner

4

21

A

210

Labourer

6

13

A I

197

Midwife

-

-

F

199

Miner

4

15

A

201

Miner

2

4

A I

xxx

Job & Anna BUNTING

-

3

8

A

214

Miner

4

24

A R

402

weaver

0

-

A R I

355

Tailor

-

-

O N

218

weaver

-

-

A U R

216

Miner

0

-

A F wife T P

219

Labourer

3

21

-

203

Miner

-

34

-

288

sweep

2

4

I R A

200

Miner

-

-

F R O C

Page 2 Dale

200

Miner

-

-

A

812

Miner

1

1

A F

222

Stonemason

0

-

A R F

276

Miner

0

-

A R I

198

Nailer

2

-

A N

198

Huckster

1

-

-

351

Shoe Maker

-

-

O N

223

Labourer

5

19

F A

224

Pauper

1

-

O S C F

196

Miner

3

10

A J

471

weaver

5

21

A F R

227

Butcher

4

24

A R F

192

weaver

6

15

A F W

191

Huckster

1

34

O N

302

Miner

1

1

A I R

249

Labourer

3

-

A F

229

weaver

0

-

O F C

202

Miner

3

-

O F S

Page 3 Dale

269

widow

0

0

N A

188

weaver

0

0

O I

188

Labourer

2

15

I A

798

Bleacher

3

5

I A

231

Miner

7

27

F A R

290

weaver

7

17

I A

228

Labourer

3

8

F D B

308

Labourer

2

4

F

182

Labourer

1

17

A

181

Miner

9

26

F A

230

weaver

3

7

F A

281

Shoemaker

4

10

A F R

301

Miner

1

1

A F

180

Pensioner

0

0

-

179

Huckster

3

17

A I

070

Pauper

0

0

U O

254

Labourer

5

15

F D B

207

Labourer

2

2

A F

224

widow

0

0

A N

Page 4 Dale

177

weaver

0

0

A F

241

Labourer

0

0

N D A

256

Huckster

4

14

A N

315

Blacksmith

1

32

O F

326

Labourer

0

0

A N

xxx

Edward & Mary WADICAM

Labourer

3

20

A P

162

Trunk? maker

1

40

O N

781

Miner

3

13

A F

158

weaver

3

13

O F R

174

widow

4

6

A P

740

widow

0

0

P A

173

Butter dealer

3

15

A I R

237

Blacksmith

1

23

A U R

238

mason

1

17

A I R

170

widow

0

0

F O R C

146

Baker

4

36

A R U

157

widow

3

22

A I R

xxx

Margaret ALLSOP

widow

0

0

A B O

156

Labourer

2

20

N A

Page 5 Dale

154

Miner

6

30

A I R

241

Spinster

-

-

F R

242

mason

1

8

I A R

190

Dealer

0

0

I A R

217

Miner

3

6

A F

195

Huckster

4

15

A U

193

widow

4

24

A R I

Page 6 Greenhill

209

Miner

0

0

A R

xxx

Peter & Edith HIGTON

Labourer

4

17

A R F

xxx

George & Marina HODSON

Pensioner

8

32

A R F

299

Miner

3

44

O R F

178

widow

4

32

O F

292

Miner

2

6

A R I

191

Miner

1

half

A R I

303

widow

6

45

O F

756

weaver

0

0

A R U

305

Labourer

3

16

A N

297

Labourer

-

-

A U

212

Miner

4

13

A R I

296

Shoemaker

0

0

A N

215

Miner

8

26

A R F

189

mason

1

5

A J

278

Miner

3

5

A U R

278

Miner

-

-

O I R

276

Miner

3

27

O R F

232

Miner

5

10

A R F

Page 7 Greenhill

307

Miner

3

12

A W? R

274

mason

2

7

A R U

150

widow

-

-

O I

689

mason

1

2

A I

268

Miner

7

19

A F

275

Miner

6

15

A F C

325

Packman

-

-

R A P

115

widow

2

17

A F B

245

widow

3

30

A F

222

widow

1

32

O A

xxx

John & Ann WIGLEY

mason

5

10

A U

309

mason

4

13

A R F

205

Miner

5

17

A

454

Miner

2

15

A F

252

Grocer

3

11

A R F

291

Shoemaker

3

28

O R N

254

widow

3

19

A R F

316

Farmer

1

6

A R U

108

Labourer

-

-

O R P

Page 8 Greenhill

xxx

David & Jane HEFFORD?

Farrier

-

-

A R U

546

widow

7

26

A F R

250

Postman

6

33

A R U

327

Tape m

3

10

A R U

248

widow

2

8

A R F C

348

Butcher

10

20

A R F

318

Shoemaker

-

-

O R F

735

Lodging House

3

5

A P

253

mason

2

6

R A F

149

Miner

0

0

R A F

229

-

0

0

A P

066

Huckster

1

3 wks

A P

204

widow

0

0

O P

186

Tailor

1

7 mths

A P

xxx

Catherine CARNEY?

Print seller

1

6 mths

Prost[itute]

170

Huckster

6

30

O R P

325

Shopkeeper

0

0

A P P

298

Shoemaker

3

7

A R F

246

Huckster

6

31

F A R

Page 9 Greenhill

326

widow

2

29

1  Baker
3  Blacksmith
1  Bleacher
2  Butcher
1  Butter dealer
1  Dealer
1  Excise officer  
1  Farmer
1  Farrier
1  Gas man


1  Grocer
9  Huckster
1  Husband transported  
1  Jobber
26 Labourer
1  Law clerk
1  Lodging house
10 Mason
1  Midwife
48 Miner


1  Nailer
1  Packman
3  Pauper
2  Pensioner
1  Postman
1  Print seller  
1  Rail porter
1  Shopkeeper
10 Shoemaker
4  Spinster


1  Stockinger
1  Stonemason
1  Sweep
2  Tailor
1  Tape manufacturer  
7  Tape weaver
1  Trunk maker
16 Weaver
32 Widow


58 Dale
54 Greenhill
9  Cockpit
8  Warmbrook
6  St John St
6  Foggs Yard
3  Bowling Green Lane
3  Bolehill
2  Westend


2  Colehills
1  Causeway
1  Washgreen
1  Hammonds Court
1  New Bridge
1  North End
1  North End Street
1  Little Hays
1  Chapel Lane

Kath Marvill sends these two court cases possibly mentioning men from the Book
The Derby Mercury, Wed 19 Apr 1854
Before Mr Mander, Coroner
FATAL MINE ACCIDENT AT WIRKSWORTH - TWO MEN KILLED - A serious accident occurred at the Ranter Mine, Wirksworth, on Monday morning (last week), whereby two men, named Allen, of Gorsey Bank, near Wirksworth, and Swift, of cromford, lost their lives; another of the name of Jacob Thompson had a very narrow escape. Swift has left a widow and seven small children, and Allen three children (who are now orphans). The particulars of the accident will be found in the evidence, adduced at the inquest of Allen (the bodies of the deceased having been removed to their homes), before Mr Mander and a respectable jury on the following day. The following evidence was adduced - Jacob Thompson - I am a miner, residing at Wirksworth; I worked with William Allen and Joseph Swift in the Ranter Mine; we commenced by examining the roof of the mine, and we all were of the opinion that it was safe, after which we began working at the vein as usual; after a short time a stone fell and caught Joseph Swift by the leg; he called for Allen, who ran to his rescue, and whilst he was engaged in removing the stone from Swift's leg, the roof of the mine fell in on Allen, Swift, and myself. [This witness had a very narrow escape from being killed, being caught on the side of the head by a portion of the roof, the skin and hair being grazed off. He gave his evidence with great difficulty, crying the greater portion of the time] - George Thompson, of Wirksworth, miner, corroborated the last witness. - Thomas Brooks said - I am a miner, residing at Middleton; I work at the Orchard Mine, it adjoins the Ranter; yesterday morning (Monday), George Thompson, the last witness, came running to me and asked me to go to the Ranter Mine, that the roof had fallen in, and two men were killed; I ran with Thompson to the mine, and found both Swift and Allen covered with rock and rubbish; we commenced removing the stone and rubbish, and after some time I heard Swift cry out for help; we could not get at them without blasting the stone, in consequence of the size - the stones were from 20 to 30 cwt; we reached them in about two hours, but they were both dead; I helped to draw them up the mine. - The jury returned a verdict of "Accidental death".
The Derby Mercury, Wed 24 Jan 1855
WIRKSWORTH - On Thursday last a man of the name of John Clough, was brought before A Arkwright, Esq., at Wirksworth, charged with stealing on the same day a gold watch, value £18, from the person of Mr samuel Wilson. About eleven o'clock in the morning Mr wilson was in the Dog and Partridge Inn, in Wirksworth, and prisoner and a man named William Abbott, with other persons, came into the room and had something to drink; after some time Mr Wilson fell asleep, and while he was asleep prisoner Clough took the watch out of his pocket. Before he really took the watch out he put his hand up to the pocket and drew it away again, but Abbott and another man pointed to the watch, and said "go on". Prisoner then drew the watch out of Mr Wilson's pocket and broke the elastic guard by which it was secured. Shortly after prisoner and a man named Wragg went out at the back door, and hid the watch in the thatch of a building, up the Dale, in Wirksworth. On their return Mr Wilson woke up and missed his watch; he called out his watch was gone, and the landlord came in and said that he should fasten the the doors and send for the constable. Clough then said, if he "wouldn't split to the constable" he would tell him all about it. He had taken the watch, and would go and fetch it back. The landlord went with him up the Dale, to an outhouse in Clough's occupation, and Clough pulled the watch out of the thatch and gave it to the landlord, who then gave him in custody. Afterwards Mr Smith, the superintendant constable, apprehended William Abbott, the man who had told Clough to "go on", for aiding and abetting him in the felony, and a young lad of the name of Higton, who was with them in the room, gave evidence as to Abbott, and another man not now in custody, having incited Clough to take the watch. Abbott was remanded till saturday, when he was fully committed to the assizes for trial.
Chris Hills writes again:
Hi John Some more unidentifieds tracked down, some more certain than others;

Chris Hills writes:
John
I have been collating information on the Nether street area of Wirksworth and believe I have tracked down some of the unidentified people listed in the 1855 manuscript book;

John and Jemima staples are probably John and Jemima Steeples, in the Cockpit in 1851,(W448), then Warmbrook in1861 (W464). See Page 13

James and Maria Staples are probably James and Jemima Steeples, in Warmbrook in 1861(W466) See Page 13

Elizabeth Milward is probably Elizabeth Millward, on SJS(?57) in 1851(W499) then on SJS (?69) in 1861(W510) See Page 13

Martha Sweeting is probably Martha Millward, daughter of Elizabeth who first married and became Martha Sweeting, then remarried and became Martha Roebuck,living on SJS(?69) with her husband Mason, her mother, and her son (from her first marriage) Joseph Sweeting (7). Neither marriage appears in the parish registers. See Page 13

Peter and Harriet Gold are probably Peter Gould and his wife Harriet nee Seeds who married in 1854 and were living on Warmbrook in 1861(W478). See Page 13

? Seeds may well have been Luke Seeds, father of Harriet, living on Warmbrook in 1861(W478) ; his marriage to Ann Milnes in 1878 produced 6 offspring eldest Thomas, born in 1819. See Page 13

Ralph and Selina Irvine may be Ralph Hallowes and his wife Selina nee Brailsford. They married in 1849 but their daughter Mary Hannah was christened in 1855. Living in Scarthin in 1851?. See Page 14

No luck with the remaining two names. Frances Gamble is surprisingly not related to Jemima Gamble (living with William Winson), but may have been from Idridgehay.
I will try to track down some of the unidentifieds from Dale/Greenhill area
chris
Susan Sylke writes:
John
I wanted to thank you ever so much for putting the information about that leather book on line. Most of the people mentioned with relatives to me. One particular one was poor Margaret Mascree. She was the 2nd wife to my ancestor William Maskrey. I think I was related to 3/4s of the people mentioned. Thank you for all the things you do regarding Wirksworth. I just got back from England. Unfortunately I do not think Wirksworth keeps up with its heritage. I appreciate all that you do.
Warmest regards
Susan Sylke.
Proud to have relatives from Wirksworth and around the world
page 1 222 William and Martha Gratton
Page 3 George & Susan Turner
Page 6 Greenhill

292 Jacob and Mary Thomson
276 Jacob and Charlotte Thompson
XXX Jos and Elizabeth Brooks

page 7 Greenhill


307 Charles & Mary Gratton
115 Margaret Mascre
222 Martha Gratton
309 Benjamin and Sarah Greatorex
205 Henry Spencer
454 Thomas and Elizabeth Seeds


page 8 Greenhill John and Harriett Mascre
Page 13 Warmbrook and St. John St


under 438 Joseph and Sarah Breardmore there is
XXX ?Seeds Labourer
This is Luke Seeds he is my direct ancestor
XXX Peter? & Harried Gold (is actually Gould)
that is Lukes daughter


Page 14 St. John St. & Courts

These are directs but I have a lot of collateral lines. Thank you so much for doing all you do with the Wirksworth group. I just was at Gorsey Bank a couple of weeks ago and I was in Wirksworth proper for pictures last year so if you need any pictures let me know
I am also researching WIGLEY (early ones) GRATTON MASKREY (my primary) and SEEDS (primary) so if you need anything with any of those lines let me know
With warmest regards and sincere thanks
Susan Sylke
Richard H Turner writes:
John - my guess off the cuff is that it was the vicar/rector of Wirksworth, or his curate at his direction. I'd check who the incumbent was, his dates, and check his handwriting from registers or other documentation at Matlock, Lichfield or elsewhere. He was prob. sussing out his flock - the 'Fidelis' obviously means 'one of ours', 'infidelis' and 'papist' the opposition/people to be worked on, who wld have included the 'undecided'; also some of the codes represent those in need of charity/ a kick up the *rse. You cld check whether at that time there was particular activity going on in noncomformist or Catholic quarters which might have got his back up. Are the various streets within the parish boundaries? On p. 1, Mrs Alsop has T as well as P: that doesn't seem to be in the code list.
At Old Whittington nr Chesterfield the 1831 census notes survive, and it's clear to me that they were retained by the incumbent there: he has annotated them in pencil with a running log of what has happened to people over the next 20 yrs or so - those who had died, emigrated, killed by accident or intemperance, and so on.
Let me know what you think.
All good wishes
Richard Turner
Wingerworth
Mike Spencer writes:
Hi John,
Checked the Tithe and there is no way they are the same tenants of one landlord unfortunately. Phineas Peat was landlord to both George Bunting and Thomas Turner. No 59 on Tithe William Holmes was owner occupier, house ,garden, shop. No. 82 on Tithe. Rev Nathan Hubbersty was landlord of William Woodhouse The Tithe commences in this area as most of the tithe numbers for the parcels are all low. The Hubbersty one is number 19 on the map. Obviously I think he held other property but not on the scale we maybe had hoped for this to be an Estate survey. If not for Rates, I wonder if it was compiled for Charitable purposes ? Was December 1855 a particularly bad winter I wonder, when the ground froze miners couldn't work. Will keep looking for answers
mike
Hi John,
I still wonder if is is a pre assessment for the Rates, not the actual Rate book. As if a survey of the populace is being made, an evaluating what each could pay towards the rates, based on job and circumstances. The final rate book may have been made on this assessment. The finished Rate books have the acreage and type of abode or property a person either owned or rented plus rate in pound payable. If not Rate books there must be a reason these people are listed, for some form of assessment. It can't be for Election purposes because women did not have a vote, neither for Jury Service ( Jurors Lists). The upper age was 60 I think around this time. I don't think it is a Survey for an Estate, although I don't think Gell had had this much property I may be wrong. I can't think of any other landowners, unless Arkwright had lots of houses here. I haven't been to DRO, so can't add from there.
mike
Hi John,
Very interesting. I will have to think about it some more, but what is the fourth column heading? The one with numbers, it can't be ages as they dont tally with the census ages. Does it have any other names at the end which might suggest who wrote and is the date listed in it, the actual date of the entries. If it was 1835 not 1853 I would suggest Poor Law, but the Union came into existence mid 1830's. And it would be the Union that would keep records whilst this look more parish. From what I can make out all the people are born in Wirksworth and not elsewhere, is that right? As I have only the one page linked I can't tell more, but this is what makes it more of a parish document. Is everyone on the streets listed in line with cenus records, or does it only list various families and not all. I have seen one something similar for Hartington I think, giving details of the character of people. Not as well constructed as this book, I can't remember the date and it may have had militia links but I can't be certain. Let me know about column four.
Mike
Compiled, formatted, hyperlinked, encoded, and copyright © 2008, All Rights Reserved.