Abraham Bennet, Curate of Wirksworth 1776-1799, was perhaps the foremost man of science produced by this Derbyshire Parish. He was a member of the Lunar Society, in 1789 published his chief work "New Experiments on Electricity", and was elected as a Fellow of the Royal Society. More information is listed below.

A memorial in the vestry of Wirksworth Parish Church sums up his life:
To the memory of/The Rev ABRAHAM BENNET F.R.S./who was XXIII years Curate of Wirksworth/Rector of Fenny Bentley/Domestic Chaplin to/ His Grace the Duke of Devonshire/Perpetual Curate of Woburn/and librarian to/His Grace the Duke of Bedford/He was author of a work entitled/ 'New Experiments on Electricity'/which established his reputation for science/amongst the Philosophers of all countries/ he died at Wirksworth on the VI day of May MDCCXCIX/aged XLIX years. (Alabaster tablet)

An outline Pedigree is:
Abraham Bennet was baptised on 20 Dec 1749 at Taxal, Derbyshire, son of Abraham, schoolmaster of Whaley Lane, Cheshire and Ann Fallowes of Cheadle, who were married at Cheadle St. Mary`s on 20th Oct 1748 by banns. A brother William was baptised 9 Feb 1752. Abraham Bennet married Jane Fallows on 5 Apr 1774 in Manchester Cathedral. Their children were: John baptised 1776, Mary (a twin) died 1777, Sarah (a twin) baptised 1778 and died 1778, Jane baptised 1779, Elizabeth baptised 1780, William baptised 1783, Mary baptised 1784, Catherine baptised 1786 and died 1789. Eliza married Francis Holliwell of Belper, watchmaker in 1803 at Huntingdon. Abraham Bennet died in 1799 after 'a severe illness'. Jane his wife died in Mappleton in July 1826. Also see Email and Taxal genealogy.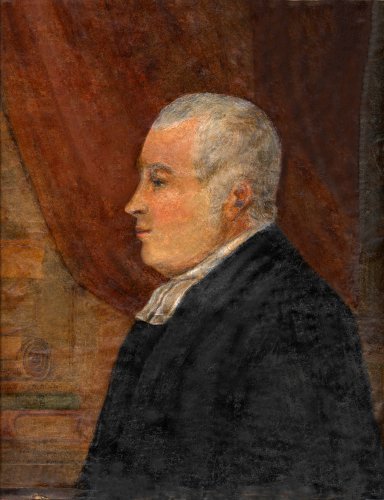 Link to Page

Description of Page

A full transcription of "New Experiments on Electricity", published by Bennet in 1789. Contains description of his inventions of gold-leaf electroscope, doubler of electricity and his theory of electricity. Contains 141 pages, 4 plates, list of 408 subscribers, and description of 157 experiments and 50 observations

In a letter from the Rev. Abraham Bennet, MA to the Rev. Joseph Priestly, LLD, FRS, Sept 14, 1786.
Also an Appendix, in a letter to Charles Blagden, MD. Sec.RS, Dec.18, 1786.
Also Three diagrams.

Communicated to the Royal Society by the Rev Richard Kaye, LLD, FRS on 1787 May 10.
Also a diagram and a Diary.

Full transcription of Bennet's "Notebook" containing extracts from books, periodicals and newspapers demonstrating the thought processes of a man of the 18th century 'well versed in different branches of Natural Philosophy'

Recommendation by the Lunar Society, leading to Bennet's election to the Royal Society in 1789. Contains 10 signatures.

An article about the achievements of Abraham Bennet by Dr Colin Pounder.

An appreciation of Abraham Bennet's works by Dr Paul Elliott, of Nottingham University. This article was published by the Royal Society.

An oil painting of Bennet from Wirksworth Parish Church, and Bennet's handwriting from the Parish Registers.

Links to Websites mentioning Bennet and his work, in English and many with images of apparatus.

Email received containing information about Bennet and his background, published with the approval of the sender.
Transcribed, compiled, formatted, hyperlinked, encoded, and copyright © 2005, John Palmer,
All Rights Reserved.