| | | |
| --- | --- | --- |
| Updated 21 Jan 2008 | WIRKSWORTH Parish Records 1600-1900 | |
<!==================================================> <!==================================================>
This article appeared on the Matlock Mercury website on 17 Jan 2008.
Published Date: 17 January 2008
Wirksworth history website nets a million visitors
By Julia Rodgerson
John Palmer updates his Wirksworth history site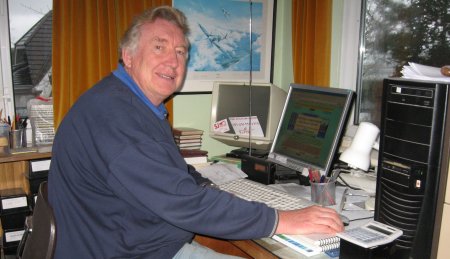 The creator of a record-breaking Wirksworth website is celebrating its millionth visitors.

John Palmer, who worked with worldwide web inventor Tim Berners-Lee, said he has been thrilled at the success of his local history site.
Mr Palmer's family has lived in the town for 300 years.
After tracing his family roots he transcribed the Wirksworth parish records and put them into a site in 1998, followed by adding Census records and old postcards.
"This may be a world record for a website dealing with parish records, local history and old photos," he said.
"I find the local history and genealogy of a community is far more interesting than just one's own family. So the website just keeps getting bigger and bigger."
See the website here

The free website has thousands of pages and photos and contains half a million records, all encoded by hand.
Mr Palmer said each day about 1,200 pages are read by online readers from over 100 countries.

Wirksworth mayor Cllr Andy Pollock praised the site.
"It's brilliant publicity for the town," he said.
"It's great to be able to find your origins and people who used to live here and what they actually did. I have looked on there at the census records which I find absolutely fascinating.
"Mr Palmer should be congratulated for his efforts."

Mr Palmer, now living in Dorset, said he visits Wirksworth about once a year but most of his research is done on-line.
He added: "The records are very accurate, because my million readers have spotted most of the mistakes and I've corrected them in a couple of minutes.
"People send me photos and text about Wirksworth and I can put them on-line very quickly."
Mr Palmer also writes a monthly column in the Wirksworth Community Newsletter.

Anyone with photos of people or places around Wirksworth can email Mr Palmer via the website and he will try to add them.

Last Updated: 17 January 2008 10:14 AM
Deciphered, transcribed, compiled, indexed, formatted and copyright © 2008, . All Rights Reserved.