| | | |
| --- | --- | --- |
| 27 Sep 2006 | WIRKSWORTH Parish Records 1600-1900 | |
<!==================================================>
Alice Hurt's Photos 1845-60.
Alice HURT (1837-1894) was one of 15 children of Francis HURT (1803-1861) and Cicilia Emely, living at Alderwasley Hall.
[Alice's extended family over 500 years can be seen on: The HURTs of Alderwasley on this website.]
Derek Wain, in "The Hurts of Derbyshire" writes: "Her chief hobby was photography.... About 1860 she put together an album of her photos taken since 1850. Roger Taylor of Bradford, formerly Curator of Photographs in the National Museum of film and Photography, saw and purchased an old photograph album in a second-hand bookshop in Sheffield. It was Alice Hurt's album.....
The early proceses of photography involved the use of heavy and cumbersome equipment, glass plates and large black cloths. This 20-year-old female member of an aristocratic family was probably regarded as an eccentric as she trudged around the countryside with her paraphenalia....The HURTS were in a position to provise the finance for what became one of their hobbies.... The logistics of transporting the cameras and other paraphenalia was a problem which had to be solved and Francis provided a pony and cart to alleviate this. His diaries reveal that photographic expeditions were planned affairs and the remark "...the photograph cart was sent on ahead" occurs several times.
"The Hurts of Derbyshire" by Derek Wain, published by Landmark Publishing Ltd, ISBN 1-84306-042-6 is a goldmine of information and photographs about the Hurts. The publishers have very kindly given permission for some of these photos to appear on the Wirksworth website.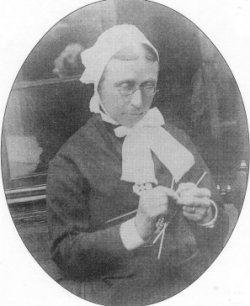 1. The New Chapel of 1849

Francis HURT built the new chapel which was opened in 1849. The family pew contained a fireplace and Francis is reputed to have `...vigorously stirred the coals preparatory to the sermon`.

2. Anne Walker

Anne Walker, the chapel cleaner, who died in July 1876, aged 87. Born Ann MILBOURN in 1790, she married Samuel in 1817 and they had 8 children. Samuel was born 1782 and died 1863. Their children were Mary born 1818, Sarah-1819, Elizabeth-1822, Ann-1823, Fanny-1824, Samuel-1826, Isaac-1828 and Jane-1831. Anne and some of her family can be traced in the Census for: 1841, 1851, 1861 and 1871. See WALKER in the Wirksworth Parish Registers.

3. The Old Chapel, Alderwasley

It was certainly in existence in 1531. This photograph was taken about 1845-50.

4. Alderwasley Chapel

Another view of the New Chapel opened in 1849.

5. Alderwasley Hall from the Park

Alderwasley Hall was the family home of the HURT family from being inherited in 1690 to 1929 when it was sold. See Hurt family of Alderwasley.
John Lowe, sheriff of Derbyshire in 1679, died without issue and Elizabeth his sister and heir carried the manor of Alderwasley and the other estates of the family in marriage to Nicholas Hurt, of Chasterne, in Staffordshire, esq. whose son, Charles Hurt, esq. was sheriff of Derbyshire in 1714, as was Nicholas Hurt, esq. son of Charles, in 1756; Francis Hurt, esq. (son of Francis) (and nephew of the last Nicholas) in 1778, whilst his father was living; which Francis, the son, was (February 1797) owner of this a manor, and of a considerable estate, viz. 3149 acres therin, partly derived from his ancestors, the Fawnes and Lowes, and partly from the purchase of his father and others of his family from Nathaniel Lord Scarsdale, and others at different periods.
The occupants of Alderwasley Hall can be traced in the following Census returns: 1901, 1891, 1881, 1871, 1861, 1851 and 1841.

6. Middle Lodge

In 1861, Middle Lodge was occupied by senior gamekeeper Isaac Moore and 3 daughters Fanny, Emma and Ann. Fanny is recorded as being the Lodge keeper. Isaac's family can be seen in the Census of 1841 and 1851. He died in 1861. Other gamekeepers at this time were: Job Ashton, Peter Kiddy, Samuel Smith and Thomas Taylor.

7. Foresters at Work on the Alderwasley Estate

From the left: Sam Redfern, Marsden, Nat Caldwell (see letter), Francis Hurt, and W.Alsop. Francis Hurt recorded in his diary on the 20 August 1858: ...Fine morning. Cecilia and Alice photographing the woodmen".

8. Alderwasley Stables

9. Hopton Hall

This photo was taken on 5 Apr 1858. Hopton Hall is the ancestral home of the GELL family. Francis HURT (1803-61) and his wife Cecilia Emely, made Hopton Hall their home from 1847 until 1854. Their last three children were born there.

10. Bottom Lodge, Alderwasley Hall

The Bottom Lodge of the Alderwasley Estate stands at the entrance into the Park from what is now the A6 at Whatstandwell Bridge. This photograph is taken from a vantage point on the bridge. The group of people are believed to be Albert Frederic HURT (1835-1907) and some of his family, which dates it pre-1907. The building which can be seen through the trees to the left of the Lodge is an old corn Mill. This is no longer visible from this vantage point due to the growth of the woodland. The property on the skyline above the Lodge is Hankin Farm.

11. St Mary's Church, Wirksworth

On 20 Aug 1859 Francis HURT (1803-1861) recorded in his diary that he "...went with Cecilia and Alice in the pony carriage to Wirksworth and they photographed the Church." He said that the day was very fine. The HURTS association with Wirksworth Church, along with their ancestors, the LOWEs, is of long standing. Therein is an altar-tomb commemorating Anthony LOWE who died in 1555. Francis HURT (1722-1783) and his wife Mary, nee GELL, rest in peace in a vault beneath the family pew. Francis Edward Hurt is also there. Grace Hurt installed a reredos in the South Chancel aisle in 1897 in memory of her sister Alice and her brother, John Frederick.

12. The Parsonage, Alderwasley

In 1861 the Parsonage was occupied by the incumbent of Alderwasley Alexander ORME and his wife, both from Ireland, with two sisters from Elton as servants.

Stuart Flint writes:
Subject: Foresters at Work Alice Hurts Photo's

Re Photo no 7 of Alice Hurts in Derek Wains book Foresters at Alderwasley
Nathaniel Caldwell on this photograph was my Gr Gr Grandfather on my mother's side of the family. His wife was Charlotte Hodgkinson daughter of Thomas and Rebecca Hodgkinson nee Frith of The Old Noahs Ark Inn Wigwell. Thomas also a Brick Manufacturer on Wirksworth Moor.. Nathaniel began working for the Hurt estate as an Agricultural Labourer and then advanced to a Forester becoming Head Forester I believe but died in his 40s ..
Added info
Nathaniels sons were:
John Cauldwell married Anne Flint daughter of William and Martha Flint nee Bacon of Hopton..Martha daughter of Matthew Bacon Lead Miner on Carsington Pastures.. John a Gamekeeper on Gells Estate..William a Farrier/Blacksmith on Gells Estate.
Thomas Cauldwell (a U was added to the name) who married Sarah Smith of Carsington daughter of James and Hannah Smith nee Land Smiths of Carsington / Alderwasley.. Lands of Bolehill..they my Gr Grandparents also my wifes Grand fore bares via Land / Slack marriage . Thomas was a Police Officer at Lancaster where he had a daughter Ada who married Albert Byard of Breamfields nr Wirksworth then he transferred to Sheffield where he had a daughter Annie Cauldwell who married John Walker they my Grandparents. .John Walker Master Carpenter son of Joseph and Martha Walker nee Sheldon.. Martha, Josephs 3rd wife.. Joseph Walker born 1815 founded Joseph Walker & Sons Building Contractors / Master Stonemasons North End and Derby Road Wirksworth.. (Josephs 1st wife Anne Wright of Wrights Cottages Wirksworth Moor, was my blood kin via both my parents families re Wheatcrofts.. Anne was Gr Gr Grt Grandaughter of my 7XGrandfather William Wheatcroft born 1645 (married Mary Wragg) on my mothers side and also by Anne's Gr Gr Grandfather Robert and Mary Frost nee Doxey, Robert and Mary my 6XGrandparents on Flints.. Thomas Cauldwell died in the pursuance of his duties at Sheffield aged 28 years .1879. Sarah his wife 12 years his senior then married my 3XUncle Robert Flint Smelting Mill Overseer of Wigwell Nook Farm Sough Lane Wirksworth Moor son of John and Mary Flint who were 1st cousins..John son of my 3XGrandparents John and Elizabeth Flint nee Colledge and Mary daughter of Robert and Sarah Flint nee Allen (who on Sarah's demise in 1829 became a Mormon and with sons John who married Mary Foster Spencer of Middleton my / my wifes kin and William who married Elizabeth Slack my wife's / my own kinswoman..(her mother Sarah Land sister to Hannah my 2XGrandmother) with their young families emigrated to Kays Ward now known as Kaysville Utah as members of the L.D.S...I am in touch with members of this family at Layton Kaysville Salt Lake City and St George especially so by the Grt Grandson of John and Mary Foster Flint nee Spencer Paul Spencer Flint and his wife Deana..all members of the L.D.S.
I have received confirmation of Nathaniels service to Francis Hurt by Charles Hurt Esq. of Casterne Hall..
Regards Stuart G Flint
Compiled, formatted, hyperlinked, encoded, and copyright © 2006, John Palmer All Rights Reserved.