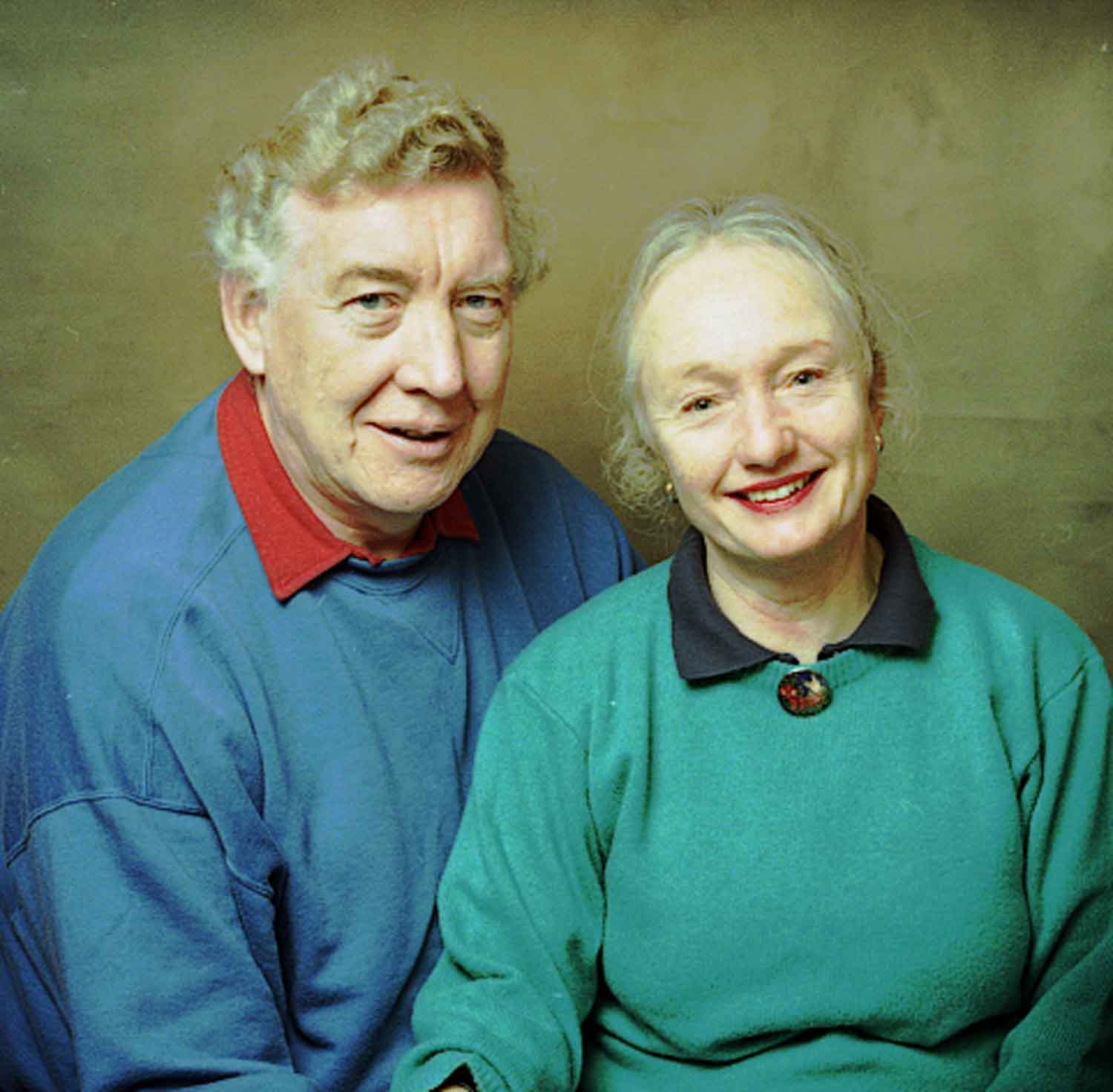 Hello Folks.
Rosie and I live in a small bungalow in a village near Poole in Dorset, England. I was born in the Blitz in London in 1940, moved to Worksop Notts, schooled at Retford Grammar, then back to London Uni as a student of Physics. Worked on the supersonic Harrier project, got sick of London, moved to Dorset in 1966 and bought the bungalow two years later. I worked for Plessey as an electronics and software engineer, and learned to drive computers. Rosie trained as a nurse, worked in Texas, went round the world three times as a children's nanny on an immigrant liner, then became a Scientific Officer at Winfrith atomic research centre in Dorset. We took early retirement in 1990, we've no children so we took the opportunity to travel. I was able to give up my career and take up my hobbies.
First a quick trip round Albania, while it was still Communist (they warned me about war in Kosovo in 1990!). Then a long ambition of mine, cycling the Circuit of Ireland. Next year Rosie and I cycled across France to the Mediterranean and back. Met a chap near Galway who had cycled across America, it sounded an exciting idea. I advertised for a companion, chose Pete a policeman from Yorkshire, and we cycled Oregon to Virginia (4,400 miles) in 66 days. Then Rosie and I cycled Florida to Virginia (1,350 miles). Enjoyed it so much, I advertised again, chose Mick a teacher from Yorkshire and we cycled California to Florida (3,354 miles) in 46 days. Meantime, Rosie and I went trekking around Kanchenjunga in East Nepal, and rode the Trans-Siberian Railway from Moscow to Vladivostok. Later we went "Island-hopping" on our bikes round North West Scotland, visiting 12 islands. Finally, I flew to Peking and spent a week walking round the back-streets of this amazing city. Repeated the "week's walking" idea round East Berlin, Istanbul, Paris, Moscow and Havana. Now we explore the magic shore scenery of Lewis in the Outer Hebrides, running this website from a laptop when it rains!
Felt I'd had enough travelling, met a friend from work who'd retired and was copying Family History to computer. It seemed like a good idea, I could drive computers and my mother had a rare Derbyshire name to research. At Lichfield I was given original Bishop's Transcripts to use, because they didn't have copies. Horrified, I offered to copy them to computer if they let me have photocopies. One thing led to another, and for three years I transcribed the Wirksworth Parish Registers to computer, running a Free Surname Search and Look-Up by e-mail, and producing microfiches of the database for sale. I planned to cover 300 years, and put the records on the Internet as my Millennium Project. In July 1998 the records went on my own Website for the first time. Now most of my spare hours are spent maintaining and expanding this website and answering e-mail enquiries about Derbyshire.
I cared for my Aunt Gert, my father's sister, who lived nearby on her own and reached 94. She had excellent family memories from a time before I was born, and we spend hours just talking. She was the catalyst of the family, introduced my mother to my father, suggested my brother's career, introduced my Uncle to his favourite sport, and was a model for the best golfer in Europe.
Rosie is keen on gardening. Over the years we have turned our back garden into a jungle. Six oak trees, a dense beech hedge, ash, birch, holly and hawthorn are all reaching for the sky. What used to be lawn is now a wild-flower meadow, begging for corncrakes. We have dug three ponds and stocked them with aquatic plants and creatures caught on fishing trips to the chalk streams and rivers of Dorset. Frogs, dragon- and damsel-flies, pond-skaters and water-boatmen arrive uninvited. Seven water barrels collect rain from the roof and a network of taps and underground pipes fills the ponds with the help of gravity. Four fountains are driven by solar panels which follows the sun and bring the garden to life. The ponds are lined with dozens of beautiful stripey boulders of Lewisian Gneiss, the oldest rock in Britain (over 3,000 million years), collected from remote beaches in the Outer Hebrides, dragged and carried in rucksacks with great effort. And we have a small bog-garden with sundews, bog-fern, butterwort, orchids and bog-cotton. We are learning to layer hedgerows and build otter holts as volunteers for the Dorset Wildlife Trust. We raised 350 oak saplings from acorns collected from the Major Oak in Sherwood Forest (1,000 years old), growing them in pots in our back garden. We bought 25 acres of pastureland near us and planted 250 "mini-Major Oaks" in a 7 acre field there to start a new Sherwood Forest in darkest Dorset. We spent 300 hours hedging during the dry Spring of 2003, ready for re-digging 500 yards of old ditch that hadn't been touched for 200 years. See Bear Mead on the Dorset Stour and Oak Blog. In 2004 we continued with Planting a new oakwood in Dorset and monitoring Flooding on the Dorset Stour. These websites tell the story if you're interested. Other interests can be found on my 23 websites.
Well folks, I guess that's all you can stand! Thanks for visiting my Web-site. Come again soon.


Best wishes,

John Palmer, Dorset, England